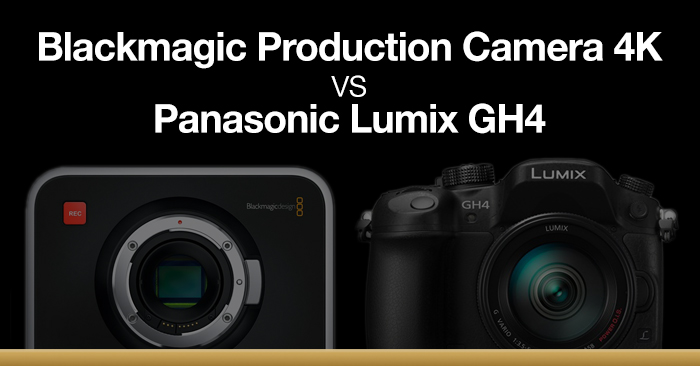 Blackmagic Production Camera 4K vs Panasonic Lumix GH4: Test Footage
Impressive footage from both the Blackmagic 4K Production Camera and Panasonic Lumix GH4 are exciting for cinematographers and indie filmmakers.
The Blackmagic Production Camera 4K and the Panasonic Lumix GH4 (yet to be released) are creating quite a buzz in the indie-filmmaking community. But how do they compare to each other? In the following article we take a look at test footage and differences between these two cameras.
The Blackmagic Production Camera 4K
The highly anticipated Blackmagic 4K Production Camera offers the sleek design of the original BMCC with 4K resolution. Early test footage shows that the quality is every bit as beautiful as it's predecessor.
The camera, which just started shipping, has been plagued with release delays over the past year. Blackmagic CEO Grant Petty says that the delay is caused because the company needed to "replace a bunch of the software in the camera that handles the sensor calibration and image processing". Blackmagic has recently dropped the price of the cam $1,000 (now only $3,000), making it the cheapest 4K production camera. That is until the GH4 is released…
The Panasonic Lumix GH4
Unlike the BMCC, the mirrorless GH4 doubles as a still photography camera when it's not taking 4K footage. With an updated sensor and 4K compatibility, the GH4 offers DSLR lovers a camera for the modern age. Preliminary footage of the GH4 shows it's capability and we are impressed.
The GH4 is not quite as cinematic as the BMCC, partly due to it's MOV compression, as opposed to BMCC's RAW recording. That being said it is still producing high quality footage that rivals even the most state-of-the-art DSLRs (we're looking at you Canon Mark III). Early speculation has the GH4 priced at $1,500 but Panasonic has not released any details regarding the release.
What do you think of the test footage? Do you think that the GH4 is a real contender or is the Blackmagic far superior?