PremiumBeat vs. Musicbed — let's compare library size, contributors, pricing, licensing, and more.
Bill Gates was right back in 1996: today, content is king. The creative milieu spans everything from narrative short films to mobile gaming apps to high-value advertising campaigns. It all begins with what we do with our attention — there is a finite amount of time in a day and a nearly infinite number of ideas vying for that time. Time is the primary currency of today's media world.
With so much content vying for your attention, only the very best will rise through the noise to achieve its goals: be that viewers in a theater, traffic on a channel, or a spate of marketing conversions. There are narrow margins for error, and the best practices in content creation usually come down to razor-thin differences of approach.
Best in class content means better than everyone else, which includes everything from concept to production values to distribution models. That's why royalty free music is so popular. When budgets and resources are thin, there often isn't room to score a project from scratch, especially for indie or DIY content creators. So, if you want to make sure your content doesn't get ripped down for rights violations, you need to make sure you're get pro-caliber quality — and the paperwork to back up your license.
The royalty free music game has changed over the last few years. In the spirit of progress and innovation we share with other royalty free music libraries, we decided to take a look at how we stack up to some of your other options. Sure, of course we think we're the best — why do anything if you're not going to believe in it? But we're also not dumb. We know every royalty free music library has its strengths and weaknesses, and we want to know what ours are.
So, in this comparison, we'll look at two of the major players in the royalty free music game: us, PremiumBeat, and Musicbed. We'll do our best to subjectively consider the two music libraries, the quality of the music in each library, the pricing options, search functionality, and industry expertise. As you might expect, we have more insight into our own operation than we do Musicbed's, so the coverage will be a little lopsided. But we encourage you to visit both sites and do some exploring of your own. In the end, we'll see where the chips fall and which service makes the most sense under which circumstances.
---
PremiumBeat vs. Musicbed
---
1. Music Library
This first comparison is going to be tough. The short version is that PremiumBeat and Musicbed overlap in regards to their general offerings —genres, categories, etc., so we'll have to drill down to find the subtle differences. And those findings we'll need to treat something like a core sample. PremiumBeat has a library of over 20,000 songs, covering just about anything you can think of. It isn't exactly clear how many songs are in Musicbed's library, though we can assume it's probably sizable. Overall numbers are important, but so is what those numbers represent.
Finding the perfect track for your project is a big deal when we're talking about libraries of this size. Sure, the search functionality is going to play a big role here, and we'll get to that, but plenty of creators come at this process from a more oblique angle. If you know the feel of your project, then it's likely you're going to want to explore your music options from a similar experiential approach. Rather than searching for a particular type of instrument, for example, browsing genres and moods can help you home in on the personality of the track you're seeking.
Here at PremiumBeat, we're working every day to expand our library and offer you a newer, better, and more user-friendly browsing experience. Our genre collections cover everything from audio logos to blues to jazz to hip hop — ambient, instrumental, vocals, film scores, electronic, even kids' music. You name it, we've got it. In-house experts curate our collections every step of the way, from initial acquisition to sustained contributions and everything in-between. And if you're not even sure which genre you're looking for, you can explore the library by feel. We've got moods ranging from action/sports to to comedy to wedding music to simple ideas like "happy," "sad," or "feel good."
Our artists constantly create new tracks that meet our (very) high standards of quality, which you see reflected in offerings like our ever-expanding collection of PRO free (Performance Rights Organizations) tracks. As we said before, sometimes the difference between successful and unsuccessful content comes down to razor-thin margins of quality. You don't have to license PRO-free tracks when you're creating content for your YouTube channel. But, if you're thinking bigger and heading for RTVF broadcasting, you're going to need PRO-free tracks just to get in the door at many places. We've got you covered.
And if that weren't enough, we're continually building out the Masterworks collection, which brings you live recordings of professional orchestral music for that sweeping, professional sound that you hear in all your favorite movies, games, and TV shows. We can tell you about it until we turn blue in the face, but nothing showcases the magic like listening yourself.
Musicbed, like PremiumBeat, targets filmmakers as one of its primary audiences, and you see this reflected clearly on the site's main landing page. Like PremiumBeat, Musicbed offers advanced search functionality, which we'll take a look at a little later. You can find a similar experiential browsing experience at Musicbed as well. Featured prominently in the nav bar at the top of the landing page, oblique, non-search browsing options showcase an organic, feelings-based approach to finding tracks. You can look directly at a master list of songs, you can browse playlists (like our collections), or you can simply listen to their latest acquisitions. And if you want some inspiration, Musicbed showcases some of its market placements so you can see how other creators are using the tracks.
While the two libraries offer slightly different approaches to the browsing and showcasing experience, they are similar in their appeal for content creators looking for options and not just lists. The most notable differences are PremiumBeat's live orchestral Masterworks collection for cinema-quality soundtracks, and Musicbed's focus on how others are using their tracks in their content.
2. Music Quality
While the sheer availability of tracks is important when assessing a royalty free music library, quality is always more important than quantity. A library of 20,000 mediocre tracks wouldn't even be worth as much as a library of 1,000 best-in-class tracks. That's why our selection process is so rigorous.
We've recruited our team of in-house professionals directly from the music industry, and they vet each track three different times before acquiring it for our library. All of the songs you hear in the PremiumBeat library are exclusive, meaning you won't find them anywhere else, so you know you can find the kind of gems that will give your project that custom, one-of-a-kind feel. Our curators are passionate about growing our library the right way, with unique additions to our collections, genres, and moods. That means you're not just browsing the same library over and over — it's a different collection each time you come back for a new project.
We also think it's important to take a global perspective when it comes to royalty free music. Truly outstanding content takes inspiration from cultures around the world. You'll find twenty cultures represented in our world genre to bring authenticity to projects hoping for global appeal. Trends are different everywhere — our library will help you keep up when it's time to dip your toes into a new pool.
Musicbed clearly shares our passion for music. Their placements demonstrate that they're putting in their own time to guarantee quality tracks, geared primarily toward filmmakers. This kind of quality means they're also relying on a crack acquisition team and not some algorithm. The full size of their library and their rate of acquisition is proprietary knowledge, but, like us, they're only considering musicians who can help you create a professional sound for your project.
3. Music Licensing
Licensing is possibly the least-glamorous part of using royalty free music, but it's a necessary step in the content creation process. The proper license protects your projects from rights infringement and helps keep everything above board. Here's how your licensing options break down at PremiumBeat and Musicbed, starting with PremiumBeat.
Single Purchase Standard License
If all you need is a single track for a non-commerical project, at PremiumBeat, you want the Single Purchase Standard License. It costs $49 USD, and you can use the track in as many projects you want for as long as you want — the agreement doesn't expire. This license is specific to online, non-commercially distributed projects. Each download also includes shorts, loops, and stems, offering you more control over your music in the editing bay. Getting in and out with this license is a piece of cake, especially if you're on a tight budget and not pumping out a ton of new content.
Monthly Subscription
If you're generating a bit more content but you're still not trying to monetize it, the monthly subscription is our latest, most-popular licensing model. It gives you five tracks per month at a price of $12.99 USD per track, for a total of $64.95 USD per month over a three-month commitment. This subscription will help you cover your busiest production window of the year with plenty of music to properly score your project. Your downloads include full tracks (both .wav and .mp3), also with shorts, loops, and stems. (The same terms as the Single Purchase Standard License apply to the subscription license.)
Premium License
The Premium License is geared toward professional production going into RTVF broadcast, distribution, or any other commercial operation monetizing your content. It costs $199 USD per track, and as with the other licensing options, you get full tracks, shorts, loops, and stems. Plus, you have the right to edit and remix the tracks however you like for a fully customized soundtrack.
---
Musicbed has a a few more subscription options, and a single-song license. An important distinction is that Musicbed's tracks are not royalty free; they're rights managed. This means that the content gets flagged by YouTube's ContentID, but with a Musicbed subscription plan, the Musicbed team will handle claims for you. If Facebook, Instagram, Twitch, Twitter, TikTok, or Vimeo removes your content due to copyright issues, you'll need to file a DMCA counter-notification yourself, which should resolve the issue.
Here's how their licensing options break down.
Individual Subscription
An individual subscription is $19.99 USD for unlimited, non-commerical downloads. You're restricted to fifty downloads per 24-hour period to prevent unnecessary downloading of un-watermarked songs. The subscription runs for a period of twelve months without an option for early cancellation. You can save money if you pay annually rather than monthly since the annual rate is $159.99 USD per year.
Business Subscription
For small business client work generating money from ad revenue, the Business Subscription offers the same terms as the Individual subscription for $99 USD per month. This subscription plan is also for a twelve-month term, and you can save money by paying annually rather than monthly. The annual rate is $1,079.88 USD.
Enterprise Subscription
For large brands with 250+ clients, the Enterprise subscription plan gives you access to the content you need to keep up with high-volume output. As with the Business Subscription, you can generate ad revenue with this license. Because companies and their needs are different, you'll need to query Musicbed for a same-day quote for this plan.
Non Profit Subscription
Musicbed has a specific plan just for non profit organizations to reduce costs. This plan is $69.99 USD per month for a twelve-month period for organizations between 1-50 employees. You can generate ad revenue with this plan, and you'll save money by paying upfront annually rather than monthly at a rate of $719.88 USD.
Wedding Subscription
If you're in the wedding videography business, Musicbed has a plan specifically for you. This plan is $79.99 USD per month for a twelve-month term ($719.88 USD, if you pay upfront annually).
Single-Song License
Single-song licensing rates are available by drilling down into individual track listings. They cost $59.00 USD.
---
4. Music Search
With libraries of this size, finding the right track is the name of the game. The quality is there, and the quantity is there. Both PremiumBeat and Musicbed spend a lot of their time making sure that the search experience is intuitive, satisfying, and successful.
The first way to begin your search is with suggestions. By clicking the "browse" button on the PremiumBeat homepage, you'll land on the tracks our music team has curated, including trends, recommendations, and new releases. You can see a similar approach at Musicbed, with the "songs," "latest," and "playlist" buttons on the site's nav bar.
Beyond these initial introductions to the libraries, you can begin exploring the different ways PremiumBeat and Musicbed have fine-tuned their tools to help you find the track you're looking for. PremiumBeat guides you into genres and moods when you drill down into our "music" tab from the homepage. Musicbed hops right into playlists and tracks when you click on "songs." Both approaches, by both libraries, guide you through the thinking of the acquisitions teams and how they hope to help you find what you need.
Let's take a look at the different tools you can use to filter your searches at the two libraries.
PremiumBeat
Genre
Mood
Beats per minute
Duration
Artists
Instruments
Advanced
Musicbed
Genre
Mood
Artists
Attributes
Instrument
Advanced
Both libraries will allow you to also filter for songs with lyrics or instrumental songs. As you can see, two toolsets are similar and reflect what the acquisitions teams have learned from users about what they want and how they want to get it. The user experience is a high priority, and the growth of the libraries takes its influence from how content is growing and how much adapts to keep pace.
The main distinction is that we at PremiumBeat are constantly working to enrich the variety of sound you can license on our site. Need ambisonic, binaural, or ASMR sound for games, VR/360 video projects? We've got such music and you can easily find it in our music library.
---
5. Industry Experience
Curating a music library specifically for content creators takes more than simple lip service. It takes experience in content creation to truly offer best-in-class quality with those razor-thin advantages that lift your content out of the crowd.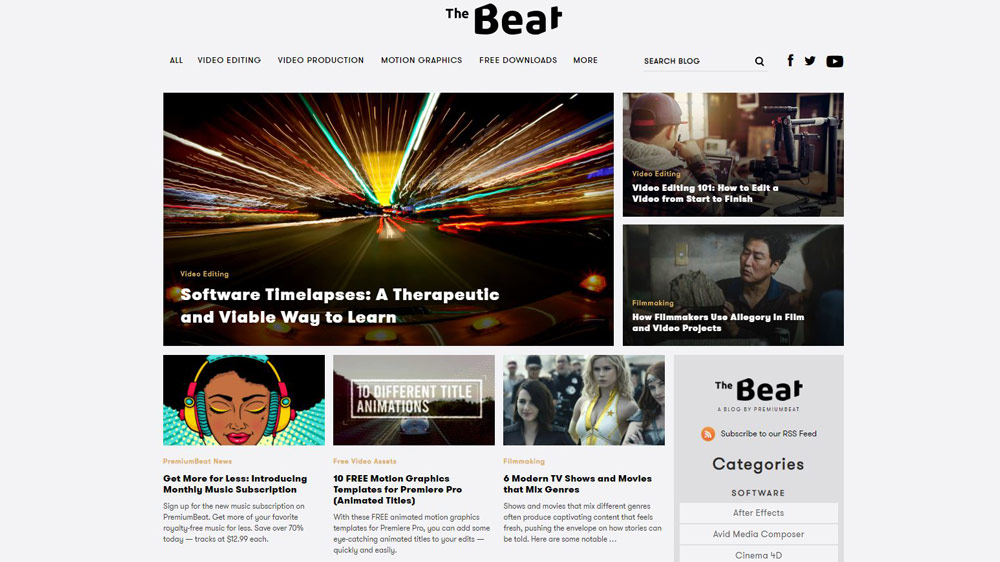 At PremiumBeat, we are content creators. Our popular, long-running blog, The Beat, cranks out dozens of articles, interviews, tutorials, and reviews about filmmaking and filmmakers each month. Our editors and writers all have hands-on experience with indie filmmaking, corporate filmmaking, game design, YouTube, vlogs, social media, and marketing. We know how to create content, and we spend the time in the trenches it takes to recognize challenges, needs, and pain points — all of which our music team irons out for the ideal browsing experience.
You can check out our YouTube channel to see where the rubber meets the road. Our international team of contributors has been solving filmmaking problems and answering filmmaking questions for years. We cover everything from lighting a dark set to working with DaVinci Resolve to marketing your film. We use tracks from the PremiumBeat library in every video we create — you can see for yourself by checking the metadata in the description. We know our tracks work because we use them ourselves — both on the channel and in our own projects.
With contributors at all stages of their careers, we have insights for everyone. So, not only can you pick up the tracks you need, you can learn how to modify them for custom sounds no one will hear anywhere else.
---
Conclusion
If there's one thing we've learned digging into this comparison, it's that these are two very solid music libraries. And as we've said a couple of times, best-in-class can mean a razor-thin advantage with one tool over another. What's more, that advantage is going to depend on the end user, not necessarily the catalogs themselves. PremiumBeat and Musicbed both clearly have a passion for our respective libraries, and we both clearly care about providing that best-in-class music for our users. It looks to us as if two different ideal user profiles have shaken out of this comparison.
If quality is pretty equal, and quantity is an unanswerable question, we're left with the search experience, the pricing models, and the rights attached to the tracks themselves.
PremiumBeat is a little cheaper in the short run. Our single download rate is $10 lower, and our subscription commitments are only for three months, not twelve, so you're out less at the onset. If you're doing fewer projects, taking more time with a project, or working with a budget you can't project twelve months out, PremiumBeat might be the choice for you.
On the other hand, Musicbed offers a lot of downloads. So if you're cranking out more projects, with a bigger team, a steadier budget, and you have some people to handle any bumps that arise from using Musicbed's rights-managed tracks (takedowns, appeals, etc.), their offering might be a better fit.
We don't think anyone will be surprised if we say we think we're a slightly more appealing general-use platform that can scale from intro-level to PRO-free, ready-for-broadcast-and-distribution. We run a very heavily curated library and experience, so we're best suited to projects that are really drilling into every aspect of production — including the score. That isn't to minimize Musicbed's library, which is impressive. Check it out for yourself, and spend some time digging around the sites. The best thing you can do for your production is prepare, prepare, prepare. That's true when it comes to audio, too.