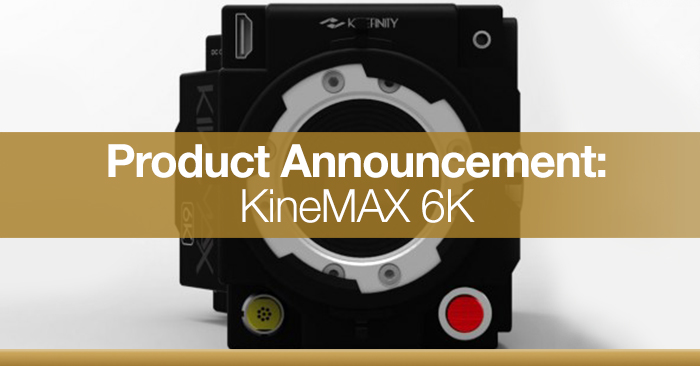 Product Announcement: KineMAX 6K
Kinfinity just announced their first 6K consumer camera and the specs are amazing.
The rumors we've been hearing for a while are true. Chinese camera maker Kinefinity have just announced a line of new cameras, the KineMINI 4K and the KineMAX 6K. At this time there is limited information about the cameras but here's what we know so far:
The KineMAX 6K camera is a Super 35 CMOS camera which can record 5760 x 3240 resolution footage at up to 30fps. Kinefinity is claiming that the camera has over 14 stops of dynamic range and 12-bit color depth.
They even claim that by using a process known as "pixel binning" users can get put to 16 stops of dynamic range with 14-bit color depth but you can only achieve this when recording in 3K. If this is true, the KineMAX would have more dynamic range than any other video/film camera on the market.
Recording 6K is no easy task, but Kinefinity has found a way to store all that information using dual SSD drives at the same time. Because of the large file size they can only record DNG files when shooting in 6K but this isn't a problem as you can still shoot uncompressed.
If users want compressed DNG files they can record to one SSD and if they want Uncompressed DNG files they must record to two. Those who enjoy shooting in camera RAW can still do so but only in 4K and HD. The camera is said to have an optical low-pass filter and an asa of 800.
KiniMAX Known Specs
| | |
| --- | --- |
| Sensor | Super35 CMOS |
| Resolution | Up to 5760×3240, 6K,4K,2K, & HD |
| Frame Rate | Up to 100fps in HD, 96fps in 2K, 50fps in 4K, 30fps in 6K |
| Compression | RAW, DNG Compressed/Uncompressed, Apple Pro Res 4444, H264, H265 |
| Recording Device | Up to 2 internal KineMAG SSD drives |
| Audio | 2 48v XLR ports |
| Dynamic Range | Up to 16-stops of dynamic range in 3K, 14-stops in 6K, 4K,2K, and HD |
| Color Depth | Up to 14-bit in 3K, 12-bit in 6K, 4K, 2K, and HD |
| Lens Mount | PL Mount, Other lenses work with adapter |
| Output | SDI, dual HDMI ports |
| Monitoring | iPhone monitoring and controlling over wifi, along with SDI and HDMI |
| Battery | V-mount or Anton Baur type batteries |
| Color | Black and Metallic |
Price and Release Date
Pricing of both the KineMAX and the KineMINI have not been officially announced but we can expect it to be less than $10,000 dollars. We have also heard rumors that the KineMAX and KineMINI could be released as soon as April 2014. These details are expected to be confirmed at NAB in April.
This Chinese response to the Blackmagic 4K Production Camera and Panasonic GH4 seems to be very impressive. However, with no test footage or reviews out yet it's hard to say if the Kinefinity will prove to be a great alternative to some of the more popular brands.
If their technical claims are backed up with footage at NAB than the KineMAX will be one of the most powerful cameras in the world.
Thanks to Dan Chung at NewsShooter for translating the press conference.
Is the KineMAX going to as impressive as it's specs lead-on? Share in the comments below.