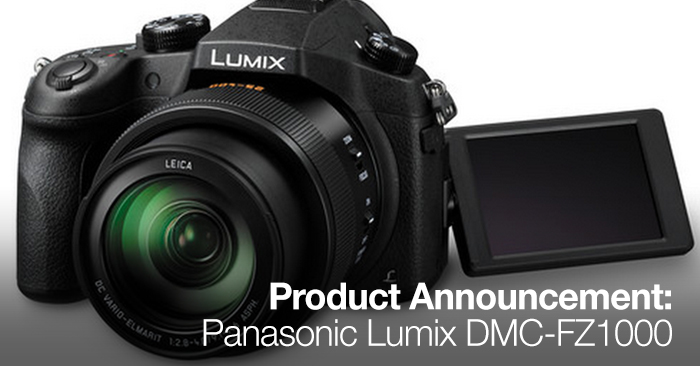 Product Announcement: Panasonic Lumix DMC-FZ1000, 4K Under $900
Shooting 4K footage with a Leica designed lens, the Panasonic Lumix DMC-FZ1000 might be a great entry level camera.
If you're a filmmaker or a photographer I'm sure this happens to you all the time…
You're at a social gathering, typically a wedding, and people see you with your big fancy camera. Which prompts them to ask you something like "I was looking to get a new camera, do you know of any good ones?". In reality this question makes about as much sense as saying "I was looking for a new car, do you know of any good ones?" Even so, we might have found the perfect go-to camera for individuals looking to buy their first "serious" camera, the Panasonic Lumix DMC-FZ1000.
FZ1000 Quick Look
The FZ1000 is what's known as a "bridge camera" meaning it is a step up from a point and shoot and one step below a DSLM/R camera like the GH4. Definitely the most incredible feature included in the FZ1000 is the ability to capture 4K footage. The footage isn't RAW but that shouldn't be a problem for someone just entering the filmmaking world. The camera also comes with a Leica designed 25-200mm f/2.8-4 lens, which is a pretty decent kit lens for the price.
The FZ1000 features a 1″-type MOS sensor. The unit also has built-in Wi-Fi connectivity, allowing for users to offload their photographs without connecting their camera to a computer. An OLED viewfinder enables users to see 100% of the image frame.
Pricing and Availability
The FZ1000 is is going for $897.99 on the B&H website, which includes the camera body, built-in lens, rechargeable battery with charger, lens hood, & a one year warranty. The FZ1000 is expected to be available by July 31, 2014.
FZ1000 Technical Specs
| | |
| --- | --- |
| Sensor | 20.9 MP MOS Sensor |
| Crop Factor | N/A |
| Sensitivity Range | ISO 125-12,800 (Extended Mode to 25,600) |
| Burst Shooting | Up to 50fps |
| View Finder | TFT LCD 2,359k-dot w/ diopter; 100% coverage |
| Autofocus | 49 focus areas |
| Shutter Speed | 60 Sec – 1/16,000 |
| Storage Media | SD, SDHC, SDXC |
| Flash | Yes – Built-In |
| Wireless Flash | Yes |
| Image Stabilization | Hybrid I.O.S. |
| Video | MOV: 3840×2160: 30 fps, 1920×1080: 30fps & 24fps, 1280×720: 30fps, 640×480: 30fps |
| LCD Size | 3 inch touch screen; 921,000 dots |
| Battery | DMW-BLC 12 Battery Pack |
What do you think of the Panasonic FZ1000? Would you recommend it to someone just starting out in the photography/video world?  Share in the comments below.