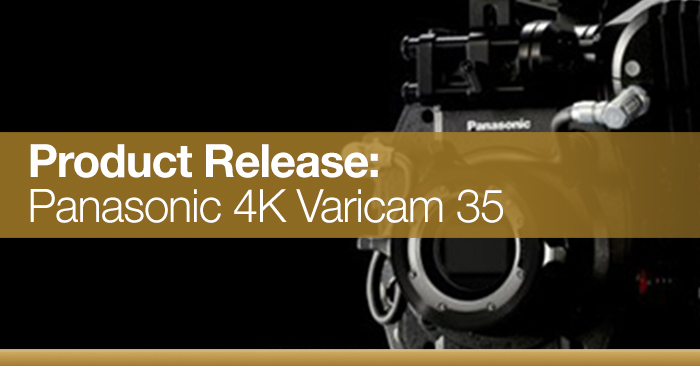 Product Release: Panasonic 4K Varicam 35
Panasonic releases the 4K Varicam 35, a serious competitor to Arri Alexa and Red Epic.
Panasonic's announcement of the new Varicam 35 is shaking up the high-end camera world. The camera, which is set to be officially unveiled at NAB in Las Vegas, is boasting awesome features including over 14 stops of dynamic range and 240 fps. The sleek, small design of the Varicam 35 also makes it easy to mount and transport.
Panasonic Product Manager Steve Cooperman stated that "Building on the esteemed VariCam legacy of breathtaking image rendition and versatile off-speed effects, this next-generation modular design will deliver unprecedented flexibility to users, who can move between the worlds of sports, documentary, and other content creation with extraordinary ease and efficiencies." Panasonic's focus on flexibility makes it uniquely different from Arri and Red but no less a serious competitor for professional filmmakers.

Photo Courtesy of FDT Times

The following illustrates the known specs for the 4K Varicam 35. As stated above, The camera is set to official unveil at the NAB conference in LAS Vegas April 7 – 10.
Panasonic Varicam 35 Known Specs
Sensor
35mm MOS image sensor
Dynamic Range
14+ Stops
Frame Rate
Up to 240fps in 1080p, Flexible frame-rate while recording
View Finder
OLED
Reference Output
Simultaneous 2K/HD with Proxy Recording capabilities.
Chroma Subsampling
4:4:4
Recording
Cards
Express P2 Cards
Recording Codec
AVC Ultra Codec or RAW
Video
4K(4096×2160), 2k, and HD Recording
Audio
24 bit Linear PCM
Pricing and Release Date
The price of the Varicam 35 has not been set, but it's safe to say it will probably be too expensive for most Indie-film productions. The comparable Arri Alexa is priced at $80,000 dollars. The release date of the Varicam 35 is not set either, but rumors state that it will probably be released in the fall.
The Varicam 35 is just one of the awesome cameras that Panasonic is set to debut at the NAB conference this year. More affordable camera's such as the Lumix GH4 and the AJ-PX270 make Panasonic a serious competitor to popular camera brands such as Canon and Nikon.
What do you think of the 4k Varicam 35? Is it really an awesome alternative to the Arri Alexa and Red Epic or will it fall short? Share in the comments below.