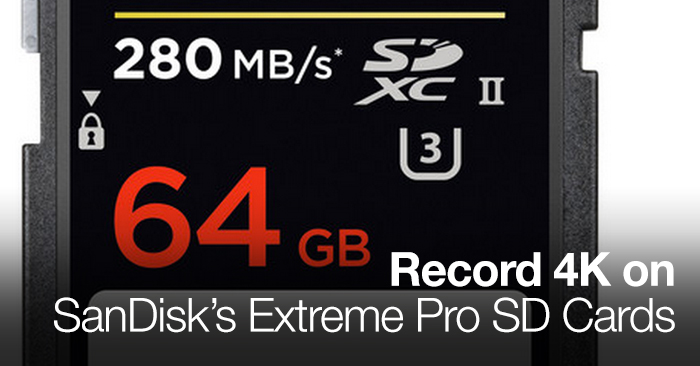 Record 4K on SanDisk's Extreme Pro SD Cards
SanDisk's new line of Extreme Pro SD cards allow filmmakers to record 4K video.
You've just got your brand new 4K camera and your ready to shoot some Ultra-HD video. You stick your trusted SD card in and hit record and all of a sudden, instead of having incredible 4K footage you have a small fire and a melted piece of plastic where your SD card used to be.
Ok, ok, so you probably won't destroy your old SD card, but if you are planning on recording 4K footage you will need a more powerful card than the ones we are accustomed to using. To meet this need SanDisk has recently released a set of 3 SD cards specially designed for recording 4K video.
Types of SD Cards
The cards come in three different sizes 16gb, 32gb, and 64gb. They feature a write speed of 250mb/s and a read speed of 280mb/s. If you are familiar with your current SD card capabilities than this is probably very impressive as most normal UHS-I SD cars have a write speed of around 45mb/s.
These new cards are beneficial in two ways; the first is that you can finally record 4K footage using an SD card. The second is that transferring your footage to a computer or external hard drive is going to be a lot faster than normal.
Pricing and Availability
The SD cards aren't cheap but that's one of the costs of shooting 4K footage.
The 16gb is$ 75 and will get 10 minutes of 4K footage.

The 32gb is $130 and will get 20 minutes of 4K footage.

The 64gb is $245 and will get 40 minutes of 4K footage.
The SD cards are expected to begin shipping by April 10.
Impressed by the Extreme Pro SD card line?
Share in the comments below.