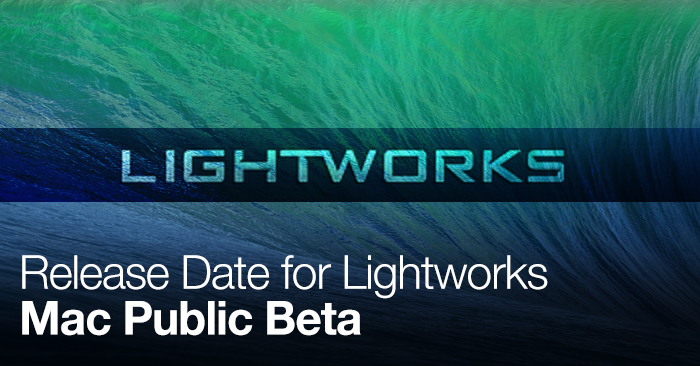 Release Date for Lightworks Mac Public Beta
Lightworks has officially unveiled a date to release it's public beta for Mac.
If you aren't very familiar with Lightworks you're in good company. Lightworks is currently a Windows and Linux based video editing application, and while it's not as popular as some other editing platforms such as Apple, Adobe, or Avid, it has a 20 year history.
Big budget editors such as Tariq Anwar of The King's Speech and Jill Bilcock of Road to Perdition have used Lightworks as their NLE of choice for years. With Red native format supporting, exporting in the background, multicam editing, and project sharing for editing in groups, Lightworks is aiming to be a contender against the other popular NLEs.
Lightworks will boast the only tri-platform support (Windows, Mac, and Linux) but as of right now you can only use it on a Window's and PC machine. That is all scheduled to change very soon. In an interview with RedSharkNews, Matt Sandford, the Global Product Manager for Lightworks stated:
"The most common question we get asked is when will Lightworks be available on Mac? Well, we are pleased at last to say with confidence that the Mac Public Beta will begin on the 11th of June 2014.

Before that though there will be a short Alpha program to a dedicated select team of users. These are users that have requested Alpha access in the past and are keen to help make sure that the Mac version is on track where it needs to be. This is the exact same process we did with the Linux version. The Mac version has been in existence for some time, so is already very stable, but because reliability is essential we are looking to test this intensively from Alpha through to Beta"
The best part is Lightworks is free with an unlimited trial period. The only catch is if you want to export a file format larger than 720p you must pay for the "Pro" software which is available through a membership (7.99 a month or 79.99 a year) or outright purchase for 279.99 (which is much cheaper than any other major editing applications).
You can download Lightworks from their website. Be on the lookout for the upcoming Mac release!
Do you currently use Lightworks? Looking forward to the Mac release?
Share in the comments below.