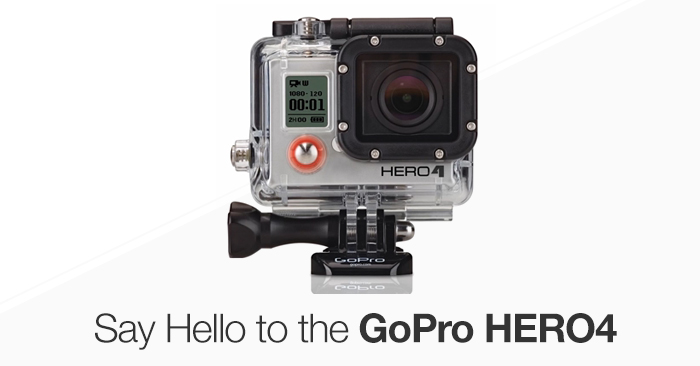 Say Hello to the GoPro HERO4: 4K Footage at 30fps
GoPro embraces the 4K future with the HERO4.
Since their initial release in 2004, GoPro has managed to stay head of the curve, often pushing the limits of what can be recorded in such a small device. With each new edition, GoPro has added new features that have increased resolution, usability, and frame rate. Their latest product is scheduled to get awesome upgrades in each of these areas, and then some.
The GoPro HERO 4 Black Edition
As you may already know, the last GoPro iteration (the HERO3+) has had the ability to record 4K "video" at 15fps. This is obviously not ideal if you are wanting to use the video for an actual production, but even so, it was a feature ahead of it's time for such a small device. Now with the release of the HERO4 Black, users will have the ability to record 4K footage at 30fps.
In addition to 4K recording, the frame rates at lower resolutions have been increased as follows: 2.7K at 50fps, 1440p at 80 fps, 1080p at 120fps, 960p at 120fps, and 720p at 120fps. This should make for some incredibly smooth slow-motion footage – especially useful if you are into action sports videography.
The HERO 4 Black also has the ability to shoot 12 megapixel photos at 30 frames per second. Or if you want to simply grab stills from your 4K footage you can get 8 megapixel footage from that. Users can also now choose their camera angles between three different field-of-views: Ultra Wide, Medium, and Narrow. Manual controls have also been added (ISO, exposure, etc.) making the GoPro a little more geared toward the video pros.
The GoPro HERO 4 Silver Edition
Unfortunately 4K at 30fps isn't available for both of the new GoPro camera models. The HERO 4 Silver Edition only features 4K footage at the traditional 15fps, but where it falls behind in frame rate it makes up with a touch screen.
With very similar mechanics to a touch screen phone, users have the ability to swipe, squeeze, and select footage using their fingers. This added feature will lead to a much more modern user experience, but we can't help but wonder how a touch screen will work in an extreme environment.
The silver also loses fps at lesser resolutions: 2.7K at 30fps, 1440 at 48fps, 1080p at 60fps, 960p at 100fps, and 720p at 120fps. However, users will still have the ability to shoot 12 megapixel photos at 30 fps.
Pricing and Availability
Unfortunately there is currently no pricing information available for both the HERO 4 Black or Silver edition. GoPro is scheduled to make an official announcement October 8th, 2014.
What's your opinion on the new GoPro? Share in the comments below.
Thanks to PetaPixel for the tip off on the new cams!