DaVinci Resolve to the rescue! Learn three techniques you can use for capturing a still or creating pauses in your next project.
With cameras sharing similar specs and design, it's difficult to distinguish why a video-focused camera is more expensive than a hybrid. Let's find out.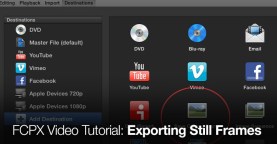 In this video tutorial by MacBreak Studio , Steve and Mark show us how to export still frames in FCPX.