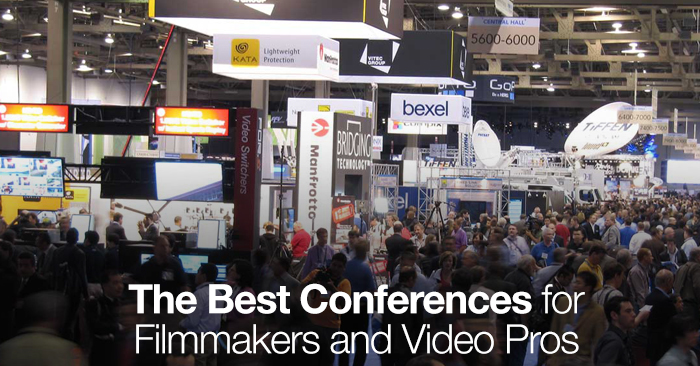 The Best Conferences for Filmmakers and Video Pros
These 9 conferences are a great way to stay up-to-date on all the latest products and industry trends.

NAB image by PattyMooney

Whether you're an indie-filmmaker, video producer or a network executive, there is a conference for you. These events are a great way to network with others in the industry and they also offer a lot of great learning opportunities. If you want to know which one's best suited for you, check out our 9 recommended conferences every filmmaker should consider.
1. NAB
NAB is the mother of all video and filmmaking conferences. Whether you are a seasoned professional or just getting into the industry, there's something for everybody at NAB. Best known as the event where large companies unveil their latest cameras and  products, you'll find massive showfloors dedicated to the future of filmmaking, television, video, distribution and much more. Covering the entire event takes full days – there's over 1,700 exhibitors in attendance and 2 million square feet of exhibitor space.
Notable Session: Gravity and Cinematography's New Frontiers: A Conversation with Emmanuel Lubezki, ASC, AMC
Location: Las Vegas, Nevada
Price: $150+
2. SXSW
What started as a music festival in the late 80's has become one of the world's preeminent creative conferences. Now covering music, film and interactive, Austin's South by Southwest is 9 days of the latest creative ideas and innovations. The film conference features indie productions of every size along with awesome keynote presentations from some of the best known actors, directors, and filmmakers in the world.
Notable Session: A Conversation with Nicolas Cage
Location: Austin, Texas
Price: $550+
3. Sundance
Sundance has come a long way in its 33 years of existence. While it's known as one of the biggest film festivals in the world, Sundance is much more than simply a festival. Here you'll find panels comprised of the best filmmakers and actors all talking about their work, year round events from the Sundance Institute and excellent networking opportunities for anyone looking to meet fellow artists.
Notable Session: Beyond Butts in Seats and Tweets, How Do We Know Films Are Making a Difference?
Location: Park City, Utah
Price: $1,500+ 
4. SIGGRAPH
SIGGRAPH is the world's largest conference dedicated to computer graphics and developments in graphics technology. Those who purchase full conference access will be able to attend SIGGRAPH awards sessions, art galleries, a computer animation festival, and of course, the large exhibition.
Notable Session: Industrial Light & Magic Presents: Cancel the Apocalypse – The Visual Effects of "Pacific Rim"
Location: Los Angeles, California
Price: $1,145
5. IBC
IBC is a conference dedicated to content creation, management, and delivery. Most commonly thought of as the NAB of Europe, IBC is the second largest conference for video professionals. It's occurs 6 months after NAB, giving vendors and manufacturers another major avenue to show off their latest products.
Notable Session: Big Screen and Second Screens—can they coexist peacefully and profitably?
Location: Amsterdam, The Netherlands
Price:$749 
8. AFM Conference Series
Designed to be a place where content producers and distributers collide, the American Film Market Conference Series is a great event for anyone looking to meet buyers for their film or TV series. Instead of focusing on the same topics every day, the AFM Conference is made up of mini-conferences, with topics ranging from financing films to pitching.
Notable Session: DIY Distribution: Finding Your Film's Audience and Digital Niche
Location: Santa Monica, California
Price: $545
8. NATPE
In line with the AFM Conference Series, NATPE is a conference dedicated to helping content producers find buyers and financing for their work. NATPE is dinstinct in that it is solely dedicated to television. NATPE takes a look at the TV industry as a whole through insightful sessions taught by industry executives and celebrities alike. If you are looking to get your next project on TV than the is is the place for you.
Notable Session: Storytellers and the Shaping of Pop Culture: A Chat with Jay Leno
Location: Santa Monica, California
Price: $1,150
9. InFocus
If you're looking for a relaxed, down-to-earth conference than the InFocus conference should be on your radar. Focusing more on creativity than the industry, InFocus is a networking and educational conference designed to help filmmakers get real world experience by working in groups. The attendees appear to be a mix of  industry professionals, as well as those looking to get into the industry.
Notable Session: Relaxing with Fellow Filmmakers
Location: Charleston, South Carolina
Price: $575
Know of any other great conferences for filmmakers? Let us know in the comments below.