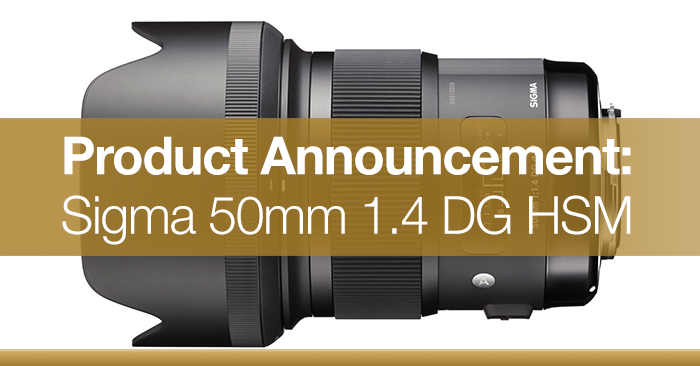 The New Sigma 50mm 1.4 DG HSM Art Lens
Sigma's latest offering could be one of the best 50mm lenses on the market.
For most photographers and videographers a 50mm lens is the go-to lens for most situations. 50mm prime lenses offer a few major advantages but the biggest advantage is being able to shoot with a wide aperture. Shooting on a low f-stop lens is crucial to getting professional quality video and photography. For many years, lenses such as the Zeiss 55 and the Sony 50mm ZA SSM have dominated the 50mm market but Sigma hopes to be joining their ranks with the new 50mm 1.4 DG HSM Art Lens.
The new sigma 50mm was completely redesigned and reengineered with photographers and filmmakers in mind. The lens come with a Hyper-Sonic Motor which allows for smoother and quitter autofocusing. Inside the lens is over 13 different glass elements across 8 different groups, specifically designed to give you maximum clarity and sharpness
Specs
Here are the known specs for the Sigma 50mm f1.4 DG HSM
Lens Construction
13 elements in 8 groups
Diameter x Length
85.4mm x 99.9mm
Aspherical Lenses
1
SLD Glasses
3 SLD Glasses
Filter Size
77mm
Min. Focus Distance
40cm
Max. Magnification
1:5.6
Autofocus Motor
Hyper Sonic Motor (HSM)
Diaphragm Blades
9 (Rounded)
Weight
TBD

 
Quality Comparisons
These test shots compare this Sigma lens, against a few other popular 50mm lenses (clockwise from top left, Sony, Nikon and Zeiss). As you'll see the Sigma quality appears to be superior to the others in the test. For more on this test, see this post over on PhotoRumors.
Price and Availability
The price of the new lens has not been announced but we can expect it to be competitively priced between $1,500 – $3,000 dollars. An Australian website had pre-orders on sale for $1,500, but we question it's credibility. There have also been no release dates set but with NAB coming up in April we can probably expect to know more soon.
What do you think of the new Sigma 50mm 1.4 DG HSM? Share in the comments below.