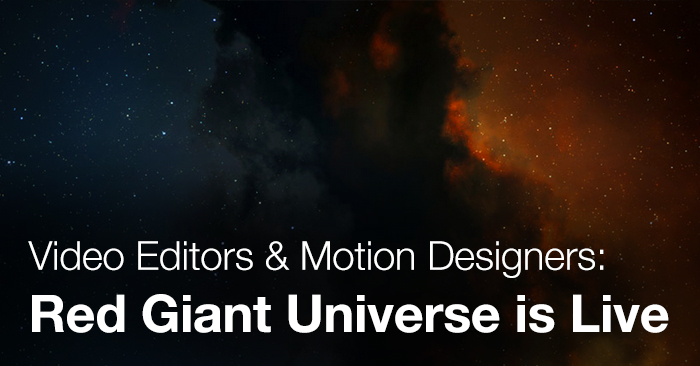 The Red Giant Universe is Live
31 free and 19 paid plug-ins help the Red Giant Universe make a splash in the post-production community.
Red Giant Universe has officially been released to the public and if you are in the field of VFX, motion graphic design, or video editing, this is big news! The Red Giant Universe is Red Giant's first shot at a subscription based plug-in service and we are extremely eager to see if it is well received. If consumers like the Universe than we will probably see many more subscription based effects in the future. But for now we have the Universe and with a version that's completely free, it's not a bad deal.
What is Red Giant Universe?
Members of the Red Giant Universe have access to dozens of plug-in's for use in Adobe After Effects, Premiere Pro, Final Cut X, and Apple Motion. The Universe was designed to be a community where users can not only download and use plug-in's but also suggest new plug-in's to be developed. Previous plug-in's like Retrograde, Knoll Light Factory EZ and Toonit are available inside the Universe.
Pricing and Availability
There is a version of the Red Giant Universe which is completely free to those who sign up. Members with a free membership will have access to 31 free plug ins. However, Premium members will have access to 19 more exclusive plug-ins. Membership comes in 3 levels: Monthly at $10 a month, Yearly at $99 a year and a lifetime membership for $399.
Even if you don't want to be a paid member it is totally worth signing up to get access to the free plug-ins and effects. To download, go to the Universe's website and begin using today!
Now that the beta is complete, what do you think of the Red Giant Universe? Share in the comments below.