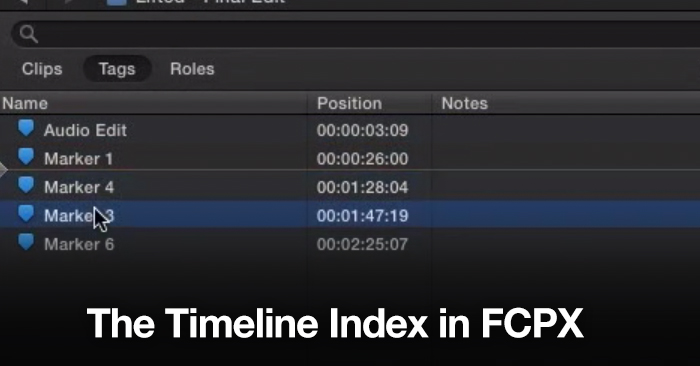 The Timeline Index in FCPX
Sort through your tagged footage with the Timeline Index in FCPX.
The Timeline Index in Final Cut Pro X is more than simply a search feature. Users who know how to properly use the Timeline Index can save a ton of valuable time when editing, especially once a rough cut has been done.
Not sure what the Timeline Index is? It's one of the most underutilized tools in FCPX. To open up the Timeline Index simply hit Command+Shift+2 and you're ready to start sorting through your tagged footage.
In the following video by Mac Break Studio we take a look at the Timeline Index and examine what is possible when you tag your footage correctly. The video covers:
Jumping to transitions
Replacing transitions
Listing and changing titles
Finding tagged footage
Locating and editing markers
Using the rolls tab
As stated in the video, the Timeline Index is incredibly helpful for anyone who does client review edits. Having the ability to quickly turn certain footage on and off gives the editor the ability to focus on certain clips in the timeline, which will make you and your client happy. This can minimize distractions and make editing much easier.
This video was first shared by Mac Break Studio. Thanks for sharing guys!
Have any other uses for the Timeline Index? Share in the comments below.