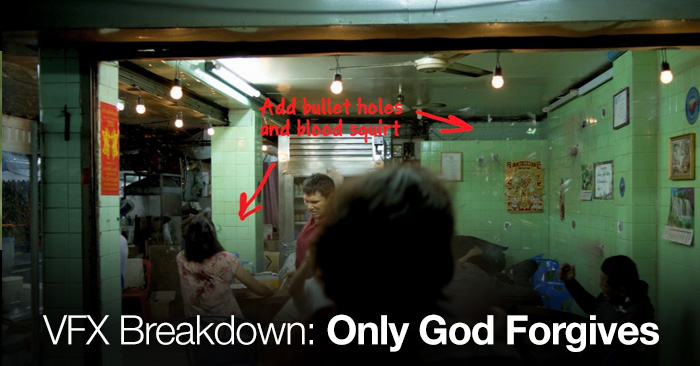 VFX Breakdown: Only God Forgives
Take a behind the scenes look at the VFX of "Only God Forgives".
Nicolas Winding Refn's Only God Forgives wasn't a hit with the critics. Receiving only 58% percent on Rotten Tomatoes and 40% on IMDB  it wasn't nearly as well received as Drive, his previous film also starring Ryan Gosling. But what Only God Forgives lacked in substance it made up for in blood. This was one of the goriest films of 2013 and the post-production team was so kind as to give us a behind the scenes look at how they created some of the awesome VFX.
First off, if you haven't seen the trailer:
Looks like Kill Bill meets Drive, right? Well the movie has come and gone in the theaters, but Nordisk Films has just released a behind the scenes look at the making of some of the visual effects. The effects were a mixture of VFX and on-set special effects. The results are pretty astounding. The VFX supervisor for Only God Forgives was Martin Madsen, who seems to be very active in the VFX world.
Warning: The behind-the-scenes video contains some spoilers, as well as some gory content that might be considered a little too gritty for work viewing. 
This behind the scenes look was first posted on the Nordisk Film Vimeo page. Thanks for sharing guys!
What did you think of the VFX breakdown? Share in the comments below.