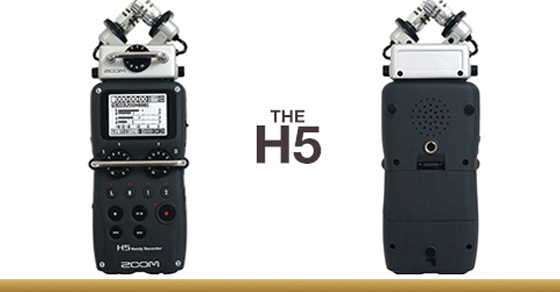 Zoom Unveils the H5 Audio Recorder
The H5 is a great audio recorder for any new filmmaker or video producer.
Zoom has definitely been an innovator in the world of indie filmmaking. The H4N made it possible for filmmakers of every budget to record professional quality sound without needing to buy thousands of dollars worth of equipment. However, the H4N had some disadvantages so soon after the H6 was released. With double the inputs and a new modular mic system it has proven to be one of the best audio tools on the market.
But the H6 isn't cheap. At $399 it's almost double the price of the H4. To fix this problem the Zoom Corporation has just unveiled the H5 audio recorder.
The H5 takes a lot of the useful features in the H6 and leaves out a few of the more "frivolous" ones. It's features:
Mic Module Compatibility (see below)
Audio Gain Knobs
2 XLR/TLS Inputs
Stereo Line Output
SD Memory Card Compatibility
It accepts 2 "AA" batteries
Unlike the H6, the H5 will not have a colored screen, but a black and white screen instead. The audio knobs insure that you don't have to click the noisy audio level button like the H4N.
he module compatibility is one of the most useful features that will accompany the H5. First unveiled with the H6, modular mic modules allow users of the H5 to replace the built-in XY microphone system with other mics including a shotgun mic or a dual XLR/TLS adapter. The adapters are not included in the price of the H5 but they are relatively inexpensive compared to buying another recording device.
Pricing and Availability
You can buy the Zoom H5 for $269.99 on B&H's website today.
What do you think of the new H5? Share in the comments below.