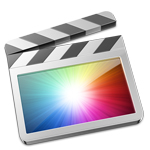 10 Quick Final Cut Pro X Tips
Whether you're new to Final Cut Pro X or an experienced editor looking to sharpen your skills, don't miss this video tutorial covering 10 quick FCPX tips.
We've previously featured YouTube user Matt's Macintosh for his great "Sky Color Correction" tutorial in Final Cut Pro X.  Now he's released another FCPX video tutorial that's a must-see for any Final Cut Pro X editor:
TEN 10 SECOND FCPX TIPS.
In this video Matt shows you his favorite Final Cut Pro X tips including:
Copy and paste effects and attributes from one clip to another.
Shortcut for view entire Final Cut Pro X timeline.
Modify and customize Final Cut Pro X shortcuts.
Color correct footage in FCPX that appears outside a mask.
Using the share menu to export multiple still image formats.
Duplicate works similar to "Save as" in legacy versions of FCP.
Use duplicate to save space on your hard drive.
Change audio from mono to dual mono.
Where to look for FCPX plugins and effects?
Where do custom Final Cut Pro X templates and effects live on your system?
Take 2.5 minutes and learn these very useful FCPX tips!  Visit Matt's Macintosh YouTube channel for more great videos on Final Cut Pro X editing, video production and Apple related topics.
Got an FCPX tip to share?
Leave it in the comments below!