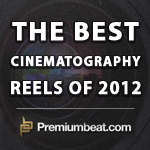 Video Showcase! 12 Beautiful 2012 Cinematography Reels
Explore beautiful video imagery in our roundup of the very best cinematography reels of 2012.
Editors, photographers, directors and cinematographers will find creative inspiration in the stunning images in these video demo reels.  Utilizing complex lighting and the latest high-def camera setups (Alexa, RED, among others), these digital cinematography reels represent some of the very best work being created today.
Breathtaking and beautiful – have a look at some of the 2012 cinematography reels that made our list.  Got a great video reel?  Share it in the comments below!
Brain Farm Digital Cinema 2012 Reel from Brain Farm
WE ARE FORGE – 2012 REEL from Forge Motion Pictures
Director | Cinematographer Reel 2012 from Cale Glendening
Greg Cotten: Cinematography Reel 2012 from Greg Cotten
C.H.Haskell DOP SHOW REEL 2012 from Clayton Haskell
Cinematography Reel – 2012 from Benjamin Loeb
2012 CINEMATOGRAPHY REEL from Max Chin
Reel 2012 – Digital Cinematography of Andrew Reid from Andrew Reid
Summer 2012 Cinematography Reel from John Pope
FILIP REEL 2012 from Filip Piskorzynski
Jake Wilganowski – Director of Photography Reel from Jake Wilganowski
Is Your World in 4K? from RED Digital Cinema