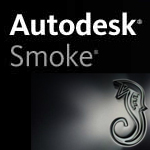 Video Editing Tip: 2D to 3D Conversion in Autodesk Smoke
Discover how to create 3D in Smoke from a 2D video image – a very cool effect!
Autodesk Smoke and Flame pro Joel Osis is a compositing, video editing and motion design pro.  This talented creative pro currently works full time as a lead compositor, and previously was a senior Flame artist.
We're lucky then, that Joel shares his Smoke and Flame knowledge in regular Vimeo posts that demonstrate advanced post production techniques.  In the following Smoke video tip he demonstrates a fairly quick way to achieve a 2D to 3D parallax based conversion using Smoke's built-in toolset.
3D (or stereo or stereoscopic) video is usually created by shooting two cameras next to each other simultaneously.  The simulated Smoke 3D effect that Joel demonstrates is unique in that the effect can be created with a single 2 dimensional video image (in this case, footage shot on a RED camera).
Word of warning for Smoke newbies, this tutorial isn't "intro to Smoke" level stuff…rather it's more advanced and probably more suited for seasoned Smoke compositors/editors.
See how to pull off a 3D effect in Smoke below.  Thanks for sharing Joel!