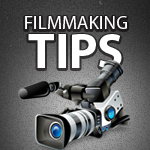 3 Filmmaking Tips for Small Productions Teams
Are you watching the Vimeo Video School training series?  Check out a recent video tutorial where they share 3 must-know filmmaking tricks for tiny production teams.
The Vimeo Video School continues to be a great resource of free video production and video editing tutorials for filmmakers and video production newbies.  Although the majority of the videos focus on fairly beginneer techniques, occassionally they'll share gems that are useful for seasoned video production veterans, as well.  To top it off, most of the Vimeo Video School tutorial videos are quite entertaining…so there's always that to keep your interest as well.
The following video shares 3 tips for filmmaking with a really tiny cast and crew. We're talking REALLY small, 2 or 3 people.  Although that's the focus here the tips are of course applicable to larger scale productions.  The 3 topics highlighted include:
Creating a swipe cut for smooth on-screen action

Utilizing a split screen to "fake" the number of actors avaliable

Recording audio with a smart phone, as a wireless alternative to pro mic kits
Overall, like most of the videos in the series, this one is an entertaining, quick and worthwhile watch.  More info and written tutorial can be found here.