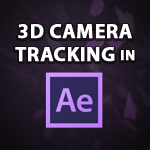 Powerful Tracking with the 3D Camera Tracker in AE CS6
In this video tutorial, post production guru Rich Harrington walks you through the new 'track camera' feature in AE CS6.
After Effects CS6 adds a new powerful new tracking tool called the 3D Camera Tracker.  Unlike other software based trackers that track the motion of a particular object in the frame, this powerful tracking tool actually tracks the motion of the camera itself.  You can use this tracking information to apply motion to objects and layers to match the camera movement – a very powerful post production tool.
In this example, video production expert Rich Harrington for CreativeCow.net explains how to use the After Effects 3D Camera Tracker by applying the tracking data to a new graphic logo layer.  The logo appears on a street in the video image.  So, as the camera moves so does the logo (making it appear as though it's part of the street).  The really incredible thing is that AE actually translates this tracking information in a virtual space larger than the video frame, so the logo can naturally actually come in and out frame depending on the camera movement (jump to 5:40 in the video to see the example).
Word of warning: After Effects' 3D Camera Tracker is processor intensive and will require a speedy machine for the tracking, especially with large format video.