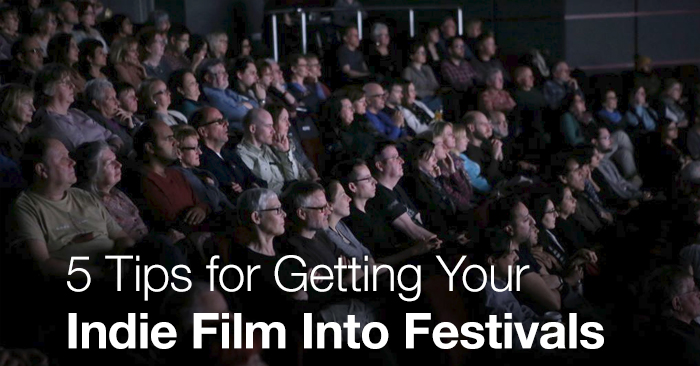 5 Tips for Getting Your Indie Film Into Festivals
Prepping your film for a festival run? Consider these 5 tips for your best chance of success.
This year I was fortunate to have been brought on as the short film programmer for  The Downtown Los Angeles Film Festival, and the experience was truly fantastic. As a filmmaker, it was really eye opening to be involved the selection process first hand, and throughout this article I will share some important takeaways from my experience.

Image from Steve Rhodes on Flickr
Many filmmakers today feel that festivals can be a waste of time. The cost of submitting to lots of festivals can be very expensive, and the chances of getting in to any given festival are very small. Not to mention that even in a best case scenario where your film is programmed at a major festival, it doesn't necessarily mean anything will come out of it with regards to distribution or representation. All that said, festivals are still arguably one of the best entry points into the film industry if things line up just right and they are a fantastic way to showcase your work.
Many filmmakers are very cynical about festivals and feel that they don't watch all of the entires or that they don't care about the filmmakers. I can tell you based on my experience that this couldn't be further from the truth. Festivals actually do get thousands of submissions and the judges have a very hard time rejecting many of the films that don't get in. So don't feel bad if you have been rejected by festivals before – it's all part of the process. The best thing you can do is refine your approach to give yourself the best odds of getting in.
1. Submit To Targeted Festivals
We all want to have our films screen at Sundance and Cannes, but what about the smaller festivals? While the major festivals are certainly worth submitting to, the truth is your film might have more success at a smaller or niche festival as the film will truly be able to stand out. No matter how great your film might be, the chances are at any major festival the films with star power will always steal the thunder. So assuming your film is cast with unknown actors, a niche festival may give you a bigger opportunity to rise to the top and create a big buzz. Your success rate will also be much higher when you submit your film, which means ultimately you will get more eyes on your film (which is always a good thing).
2. Have a Rock Solid Logline
Festival programmers rely on your logline to help them not only learn about your film, but more importantly decipher what programming block and genre it would fit into. In order to give yourself the best possible shot at getting in, you need to represent your film accurately. For instance, if your logline is misleading and makes your film feel like a different genre, it may be sent to the wrong programmer and it may get rejected for the wrong reason. Bur more importantly, if your logline is extremely powerful it will also help the programming team understand how they can package and market your film, since after all they do need to fill seats in the theatre. For assistance on crafting the perfect logline see this article from Raindance Film Festival or this quick video tutorial.
3. Fill Out Your Withoutabox Profile!
I was surprised at how many filmmakers didn't take the time to fully complete their Withoutabox profile, which for those of you that don't know is the interface that many festival programmers will see. Much like the logline example that I gave above, your WAB profile is the best way to represent your film to the judges and let them know why it would be a perfect fit for them. If you can, take the time to write individualized cover letters for each festival, because ultimately the programmers do read them. If it's down to your film and someone else's, and theirs comes with a detailed WAB profile and a tasteful cover letter, chances are they may take the spot.

Image from the Bradford International Film Festival on Flickr
4. Submit, Submit, Submit
I know that submission fees can be very expensive, but the truth is you need to factor them into your budget. If you want to screen at 3 or 4 festivals, you need to be prepared to submit to 20 – 30 at least. The ratios of getting in are not great, so just know that you do need to submit your film to more than 2 or 3 festivals if you expect to have any sort of festival run. And if money is an issue, consider contacting festival programmers directly and requesting a fee waiver. Many festivals will offer this to filmmakers on a budget, especially if you explain your case well.
5. Make A Festival Worthy Film
At the end of the day you can follow all of these guidelines, but if your film isn't quite strong enough it still won't get in. It goes without saying that your film needs to be well executed on every level (both creatively and technically), but what's more important is that it will be suitable for a festival environment. For example, if you are making a short film, make it a short film. Don't submit a 30 minute cut, because they won't be able to program your film – ideally keep things down to 10 minutes or so. Or if you are just writing a new feature screenplay, try to write it with your festival of choice in mind. Different festivals have different preferences for the type of content they are drawn to, so make sure that your film is destined to be a good fit in every possible way.
In Conclusion
Regardless of how strong your film is, you still need to put yourself in the best possible position to get your film programmed by the festival committee. If you submit a beautifully executed film to lots of targeted festivals with a strong withoutabox profile and logline, you will have a big head start and a much better shot of getting in. And when you do get rejected from a festival here and there, don't worry. It doesn't mean your film was bad, it just means it couldn't be programmed.