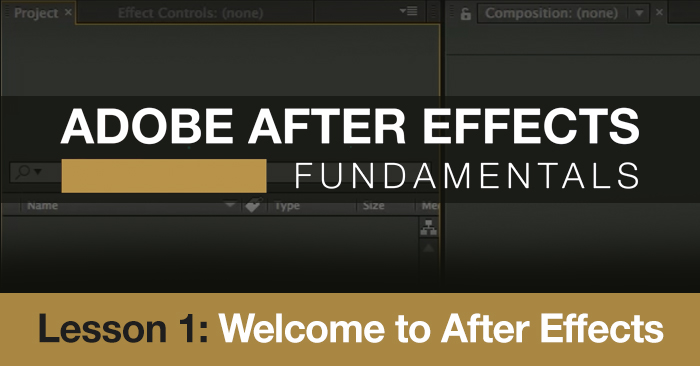 After Effects Fundamentals Lesson 1: Welcome to AE
Learn the basics of After Effects in Lesson 1 of our 10 part After Effects Fundamentals course.
For the new user, Adobe After Effects can seem like the most fun, mind-blowing, and complicated program ever created. AE gives users the ability to blend motion graphics with VFX and everything in-between. It has been used to create VFX on the biggest Hollywood films including Avatar and the Avengers, and it's the go-to industry standard for motion graphic design. But for new users After Effects can be incredibly daunting. If you're not familiar with terms like masks, keyframes, alpha-channels and rendering, navigating After Effects may seem impossible.
Well lucky for you, we're offering a free video tutorial series on After Effects Fundamentals. The 10 part course will be presented over the course of 10 weeks, with a new lesson posted every Monday until we are finished with the series. By the end of the series you should be ready to create amazing animations and VFX in After Effects. If you have any questions along the way I'll be happy to answer them. Simply ask in the comments below.
In this first lesson we will introduce you to the After Effects workflow and go over a few key concepts including:
The After Effects interface
Effects
Solids and layers
Animation
Rendering
With a little determination you'll be creating amazing animations in no time.
Best viewed full screen:

We will post new lessons
every Monday
for the next
10 weeks
. Check the Premiumbeat blog for future lessons. And while you're there you can watch more
After Effects tutorials
, read the latest 
filmmaking news
 and pick up some post-production tricks.
What did you think of the first lesson? Have any questions? Ask in the comments below.