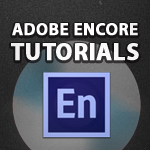 9 Informative Adobe Encore DVD Authoring Tutorials
One product in the Adobe Production Suite that often gets overlooked is the powerful Encore DVD authoring application.  Here are 9 tutorials that will get you up to speed on Encore in no time!
Creative Cow contributor and Premiumbeat blogger Andrew Devis recently completed a 9 video tutorial series on creating and authoring DVDs in Adobe Encore.  Although video pros are dealing less and less with DVDs, for many clients and consumers it's still the medium of choice.  Knowing how to create and deliver quality (and often complex) DVDs is still essential for post production professionals.  In addition to standard DVDs, Encore provides the tools necessary to author Blu-Rays.
In this 9 part video series for Creative Cow, Andrew walks you through all stages of Adobe Encore DVD creation, from importing video sequences to creating complex menus and buttons.  3 videos are dedicated to creating Slideshows using Encore – a robust use of that application.
Naturally, the more complex the DVD project the more room there is for error.  Andrew walks you through how to check your DVD for quality and insure it's free from common oversights and errors.  The last thing you want is to deliver a DVD to a client with tracks disconnected or playback errors – ouch!
Adobe Encore is a good solution if you're looking for a DVD solution in your post production pipeline, especially if you're already an Adobe diehard or Premiere Pro editor.
Check out the first few Adobe Encore tutorial videos below (the full series is on Creative Cow).
What do YOU use for your DVD authoring?
Are your clients still asking for DVDs?  Blu-Rays?
Let us know in the comments!