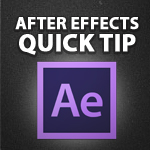 After Effects Tip: Quick Versioning
Looking for a quick way to create multiple versions of lower thirds and titles in After Effects?  This cool AE expression allows you to quickly modify text in your AE projects to create multiple versions.
Creating interesting motion design projects is fun.  Having to create multiple versions is not.  That's where this handy After Effects expression from designer/editor Zack Lovatt comes in handy.  Apply this versioning expression to your AE project and you can change the text and titles in your composition by simply changing the name of the composition.
The expression pulls the source text from the title of the composition and then displays it on-screen in your graphic.  You can quickly create multiple versions by simply duplicating comps and changing their name.  Pretty awesome.
For more information about this After Effects expression, as well as a zip file to download it for your project, check out ZackLovatt.com.  Thanks for sharing, Zack!