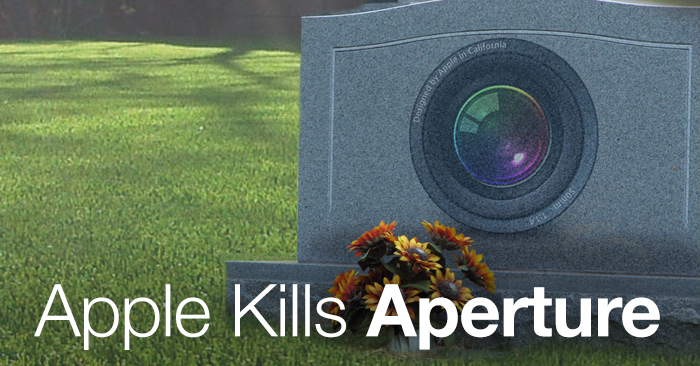 Apple Kills Aperture – Final Cut Pro X and Logic Safe for Now
If you're a photographer that uses Apple's Aperture photo editing application, it's time to start learning Lightroom.
After speculation over the last few years that Apple may be abandoning the pro photo editing space, an announcement today confirms that as fact. Apple will no longer be developing Aperture, the photo organization and editing program used by many pro photographers. Aperture has gone without any significant updates since 2010…a foreshadowing of today's announcement.
At this year's Worldwide Developer's Conference Apple announced "Photos", an application we now know is intended to take the place of iPhoto. Apple has announced that Aperture users will be able to migrate their existing photo libraries to 'Photos for OSX' when it ships in 2015. The editing functionality in Photos is more advanced then what we've seen in iPhoto in the past, but there's a big question about whether it will provide the same professional feature set that Aperture had.

Image: Photos for OSX
Just as Apple faced a backlash with the announcement of Final Cut Pro X in 2011, we can expect the same with this announcement (and a similar exodus to Adobe's Creative Cloud).
Update to Final Cut Pro X, Motion & Compressor
In related Apple news, they're showing support for other creative industries with the announcement of an update for Final Cut Pro X, Motion and Compressor. The list of updates in the Final Cut Pro X 10.1.2 release include:
Optimized, proxy, and rendered media can be stored at any location outside of the library
Easily delete optimized, proxy, and rendered media from within Final Cut Pro X
Used media indicators for Compound clips, Multicam clips, and Synced clips
Option to show only unused media in the Browser
Apply a standard (Rec. 709) look in real time to high dynamic range and wide color gamut video from ARRI, Blackmagic Design, Canon, and Sony cameras
Automatically apply an ARRI embedded 3D LUT from the new AMIRA camera
Support for Apple ProRes 4444 XQ
Improved speed and accuracy when synchronizing clips
Audio recording improvements including countdown and automatic Audition creation from multiple takes
Fast export of cuts-only projects containing XDCAM media
Export entire library as a single XML file
Selecting a library displays key metadata in the Inspector
Adjust relative and absolute volume of a clip or range selection
Create Keywords from Finder Tags when importing media
Option to sort events by date or name in the Libraries list
Import a clip by dragging directly into the Browser
Share 4K video to Vimeo
Jump to TechCrunch for a full listing of Motion and Compressor updates.
Are you an Aperture user? What are your thoughts on this announcement? Share in the comments below!