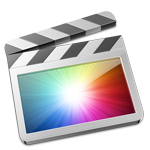 Apple Updates FCPX, Attempts to Win Back Pro User Base
Apple continues to update their Final Cut Pro X video editing application, with the 10.0.8 adding new features and addressing performance issues.
Video editors that cried two years ago that "Apple isn't dedicated to the pro user!" after the release of FCPX, may have to rethink their position. Since its release it has received continuous updates to improve performance, as well as add new (and missing features) that make it more usable for pro video editing. The recent FCPX 10.0.8 update continues to improve the app and offer more features for the professional user (list of new features with 10.0.8 update below).
A recent LA Times article stated that Apple is now planning to squarely target their professional userbase, including video editors that they may have initially lost with the release of Final Cut Pro X.  The new "FCPX In Action" marketing series will focus on professional video editors and producers that are employing a FCPX workflow with success.  It will be interesting to see if this marketing push, coupled with the ongoing app updates, is enough to sway video editors that Apple is in fact committed to their pro userbase. (Image from Apple.com)
Final Cut Pro X 10.0.8 Update
Support for Sony XAVC codec up to 4K resolution

Option to display ProRes Log C files from ARRI ALEXA cameras with standard Rec. 709 color and contrast levels

Resolves an issue where some third-party effects generated green frames during render

Resolves performance issues that could occur with certain titles and effects

Time reversed clips render in the background

Ability to use key commands to adjust Clip Appearance settings in the timeline

Ability to view reel number metadata located in the timecode track of video files

Mono audio files in a surround project export with correct volume levels

Drop zones no longer reset to the first frame of video after application restart

Fixes a performance issue which resulted from selecting multiple ranges on a single clip

Fixes an issue where the Play Around function did not work properly on certain clips when viewed through external video devices
Are you using FCPX?
Share your thoughts/comments/experiences below!