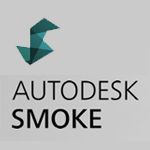 Autodesk Smoke Power Tip: Edge Blur in ConnectFX
Smoke and Flame guru Joel Osis shares his workflow for adding edge blur in Smoke's ConnectFX – great for working with green screen or chroma key.
If you're looking to get clean edges in your chroma key and video compositing projects, this tutorial by Joel Osis has you covered.  Getting a smooth key can be tricky…and adding an edge blur can sometimes produce a very unnatural effect.  In this Autodesk Flame and Smoke tutorial, Joel shows you how to successfully isolate and then add a slight edge blur to your keyed footage in Smoke.  Additionally, you'll see how adding "regrain" to this blurred edge can help pull off the effect – making it look more organic.
This Autodesk Flame and Smoke tutorial is geared toward video pros that are already have experience working with nodes and the ConnectFX effects interface. Adding an edge blur to your composited footage in Smoke is a subtle effect, but an important one for really 'selling' the composite.
You may also be interested in Joel's previous Autodesk Smoke tutorial on converting a 2D video image to 3D. Thanks for sharing, Joel!