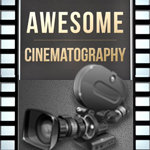 Cinematography Tutorial: Dramatic Camera Slider Moves
In this video production tutorial we'll share a few must-know tips for creating engaging shots using a camera slider!
Awesome Cinematography is a series where we talk about creating cinematography that will take your production value to the next level. In this episode, we talk about creating unique camera moves using a slider. A slider is a great way to add production value to any shoot.
The two techniques that we will talk about were used in a short that I recently released.  You can view it here.
The first shot we will talk about is a dutch angle dolly. Adding a dutch angle to your dolly creates a very dramatic perspective change for the viewers. The second shot we will demonstrate is an angled dolly.
For all you gear-heads here's a list of equipment used in the video:
Manfrotto 501 tripod (discontinued)
Additional Manfrotto head
Cinevate Atlas 10 slider
Canon 5D mk3 – 24-105mm
Lowel light stands
As you can see a slider or camera dolly, coupled with these techniques, will add drama and help convey emotion in your story.
What other cool camera moves can you accomplish with these techniques? Do you have any tips or tricks to create Awesome Cinematography? Let us know in the comments below.