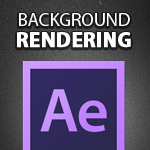 Pro Tip: Background Rendering in After Effects
Want to speed up your Adobe After Effects workflow?  In this post, we share a video tutorial that shows you a trick to being more efficient: background rendering in After Effects.
One quick way to kill editing momentum is to start a render.  It's necessary, but can be painful waiting for your motion graphics or video editing app to process your project.  In the past, I've always twiddled my thumbs while rendering in After Effects (or jump over to a different program).  Now, here's a better way.
In this video by DigitalSandwich.net, you'll see how to use Adobe Media Encoder to do background rendering in After Effects.  After saving your After Effects project file, open up Encoder.  Bring the AE file into Encoder and target a composition to render.  It's as simple as that.
Note however, background rendering in After Effects (using Encoder) will not be as fast as if you were actually rendering in AE.  Glen from DigitalSandwich explains that Adobe products place the highest priority on the application that is at the forefront of your system (the one you are actively using).  So, if you're working in AE while you're rending your After Effects project in the background using Encoder, After Effects will get a higher percentage of your available RAM.  The trade off here is that youre actually able to keep working.  In that case, I'll take the slower render speed.
If you want to see how to do background rendering in After Effects check out this quick and informative video tutorial: