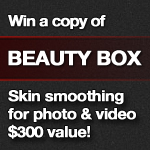 Beauty Box Giveaway! Skin Retouching for Photo & Video
Win a copy of Beauty Box – a powerful skin smoothing and retouching plugin for photo and video editing!
UPDATE: THE CONTEST HAS NOW ENDED.  Thanks to all who entered.
Please follow us on Twitter and Facebook for info on future giveaways!
---
More info on Beauty Box and $50 off!
Take years off your talent by applying the Beauty Box plugin from Digital Anarchy!  The popular plugin comes in to two versions that run inside popular editing applications.
Photographers can use Beauty Box Photo with their current workflow inside Photoshop – $99.
Video editors can run Beauty Box Video within After Effects, Final Cut Pro, Premiere Pro, Avid or Sony Vegas – $199.
I've personally used Beauty Box for several years and it has become an indispensable plugin in my editing toolkit.  Clients are always impressed with the result – especially useful for commercials, corporate talking heads or wedding photos/videos.
Beauty Box makes retouching photos or video a fast, painless process.
Beauty Box uses advanced face detection to create an automatic, traveling matte.
The matte keeps details like teeth, hair, and eyelashes razor sharp while just smoothing skin.
State of the art smoothing algorithms allow you to easily get rid of wrinkles and blemishes.
A simple workflow means you can get the work done fast.
Powerful algorithms means the work looks great!
GPU acceleration makes renders go quickly.
New in 2.0 is Shine Removal, allowing you to deal with skin hot spots caused by lights.
Beauty Box Video skin retouching plugin gives your actor or model an incredible makeover in post-production by incorporating state-of-the-art face detection and smoothing algorithms. This video plugin automatically identifies the skin tones and remove imperfections, while leaving important facial details sharp.
Editors and artists no longer have to manually create masks or retouch frame by frame. Whether it is used for a feature film, music video or a corporate talking head, Beauty Box Video is a powerful tool for any production that requires people to look their best.
Download a free trial and see the results for yourself.
Premiumbeat customers can save $50 through August 30th by going to the Digital Anarchy Store and using this coupon code: PREMIUMBEAUTY