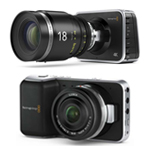 Blackmagic 4K and Pocket Cameras: The Winners of NAB
With a slew of product announcements surrounding NAB 2013, Blackmagic Design stood out with the announcement of their 4K Production Camera and Pocket Cinema Camera.
For the last two years, Blackmagic Design has taken the cake when it comes to product announcements at the NAB Show.  In 2012 they made a huge splash with the announcement of their Cinema Camera, a professional digital camera that shoots 2.5K at under $3,000.
The big news at the 2013 show was the addition of two more cameras in this product lineup, a professional production camera with a super-35 sensor that shoots 4K for $4k and a super 16 pocket camera that shoots 1080p RAW for under $1K.  For the full specs on these cams see below.
Blackmagic is shaking up the video production and post production industry, making cutting edge professional tools affordable.  What do you think of these cams? Share your thoughts in the comments below. 
Both cameras are slated to be shipping in July 2013.
Get more specs and details on the product announcement at NoFilmSchool:
Blackmagic Production Camera 4k
Super 35 size sensor with a global shutter
Native 3840 x 2160 resolution, optional 1920 x 1080 (via downsampling)
12 Stops Of Dynamic Range
Shoots 23.98/24/25fps, 29.97/30fps, 50i and 59.94i in 1920 x 1080
EF Mount
Visually lossless compressed CinemaDNG RAW and ProRes 422 (HQ)
21.12 x 11.88mm active sensor area
2.5″ SSD
Thunderbolt and 6G-SDI output
Built-in touchscreen
Available in July for $3,995
LANC
Blackmagic Pocket Cinema Camera
Super 16 1080 HD Sensor
13 Stops of Dynamic Range
Shoots 23.98/24 and 29.97/30 fps
Active m4/3 mount
Visually lossless compressed CinemaDNG RAW and ProRes 422 (HQ) to SD cards
12.48 x 7.02mm active sensor area
Shipping in July for $995
3.5″ LCD touchscreen
Removable Battery
Built in Stereo Mics
LANC, micro HDMI with overlays