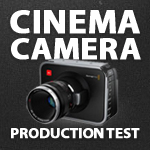 Online PSA is First to Use Cinema Camera in Production
California based One River Media is the first video company to use the Blackmagic Cinema Camera on a professional production.  Get details and watch the PSA "Texting is Dangerous".
Given only a one-day production window to use the Blackmagic Cinema Camera, One River Media got right to work.  The result is a public service announcement entitled "Texting is Dangerous" (or "Texting is gefährlich" in German).  This is the first known real-world production test of the Cinema Camera and the shooting requirements for this spot certainly put it through the ringer.  The test addressed the following factors (from the creators Vimeo page):
Low light abilities (among others, the opening shot only uses city lights).
Dynamic range (we literally shot INTO headlights).
Image sharpness
Tonal range
Narrow DOF
Extreme wide angles
RAW CinemaDNG image data quality
Functionality and ease of use
The following lenses were used with the Blackmagic Cinema Camera on the production:
Canon 24mm f/1.4L
Canon 50mm f/1.2L
Canon 135mm f/2
Sigma 8-16mm f/4.5-5.6 zoom
The director said that the camera was able to "accomplish all of these tasks with no problems and exceeded my expectations in many situations."  The clarity in low light does looks pretty impressive.  Take a look at the spot below to see for yourself how the Blackmagic Cinema Camera performs in a real production situation  Share your thoughts in the comments!
Want to win a Cinema Camera?  See our giveaway page for details.
Best viewed full-screen:
Thanks to FCP.co for tipping us off to this video!