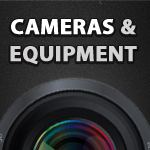 Camera Assistant Essentials
Don't be caught on set without the necessary tools for the job. In this quick tutorial you'll get a rundown of the essential items that every camera assistant should have in their toolkit.
If you're in the video/film production industry and you're not reading The Black and Blue you should be. Black and Blue founder Evan Luzi is a skilled camera assistant who uses the blog to share his in-depth knowledge of the job and film industry.
In a recent post and video he pulled out his camera assistant toolkit and showed the items he brings on every shoot. Some of these items are obvious (clapperboard, wrench, card reader) while others are not so obvious (ibuprofen, space blanket, hand sanitizer).
This is great info if you're just starting out in the video biz or if you're curious how you can improve your own established kit.  Check out the corresponding post on The Black and Blue for a full list of the camera assistant kit items, as well as Evan's insightful commentary on how you customize your kit best for the type of productions you work on.
Thanks for sharing, Evan!