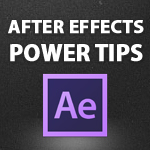 Camera Rotation in After Effects & Cinema 4D
A quick and informative video tutorial for controlling your camera focus in After Effects & Cinema 4D!
If you're a new AE or C4D user or simply looking to get better looking animations (note: every user!) then this quick tutorial by Joren Kandel at ThePixelLab.net is well worth the time.
In the video tutorial Joren explains how to control the center focus of your virtual camera by either adding a null layer (Cinema 4D) or modifying the point of interest (After Effects).
You may have noticed when you're moving the virtual camera in After Effects you have trouble keeping it centered on an object.  In the tutorial, Joren demonstrates how to pick a focus point in Z space so that the camera can rotate around any point in the video frame.  A simple tip, but one that may be not completely obvious for some users.  This may save you a major headache down the road!
The video kicks off with Cinema 4D and then explains how to achieve the same result in After Effects at about 1:45.