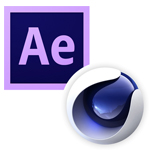 Video Tutorials: Cinema 4D and After Effects Integration
Excited for the upcoming integration of Cinema 4D into After Effects?  In this post we share 3 video tutorials that show you how the new Cineware feature will work in future versions of AE.
Adobe has announced future integration of Maxon's Cinema 4D into Adobe's After Effects, via Cineware and Cinema 4D Lite. The motion design community couldn't be happier.
The current process of prerendering your Cinema 4D files and then bringing them into After Effects is clumsy and time consuming. The integration of Cinema 4D into AE will provide a live 3D pipeline that won't require any rerendering. Instead you'll be able to create and modify Cinema 4D files through After Effects.  If a full version of Cinema 4D is installed on your system, AE would open that. Otherwise, Cinema 4D Lite (that will come included in future After Effects versions) will open. Anything you change in Cinema 4D will automatically be updated in After Effects.
Ok, so you want to see it in action? Two of the most popular motion graphics gurus online have released their take on the new Cineware/After Effects Integration.
The first video tutorial is from our friend, John Dickinson at Motionworks. He gives a 10 minute rundown on how Cinema 4D Lite will work in upcoming versions of After Effects. Tons of good info here, whether you're a Cinema 4D veteran or are just curious on what it can add to your exisiting After Effects work.
Below that we've got two video tutrials from the great Nick Campbell from Grayscale Gorilla. One of the tutorials is geared for existing AE users interested in Cinema 4D. The other is targeted for existing Cinema 4D users interested in AE. Take your pick.
No doubt the C4D to AE feature will open up 3D motion design to a new legion of video professionals – a great move by both Maxon and Adobe! No details yet when this new release will be available for public purchase.
After Effects: Cineware & Cinema 4D Lite by Motionworks
Cineware and Cinema 4D Lite For After Effects Users by Greyscale Gorilla
Cineware and Cinema 4D Lite For Cinema 4D Users by Greyscale Gorilla