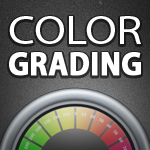 Color Grading Tutorial: LUTs in DaVinci Resolve
Discover how you can quickly modify the colors and intensity values in your video footage using LUTs in DaVinci Resolve.
Over the last few years, with the explosion of more affordable color grading applications and video shooters capturing more RAW (flat) images, the term "LUT" is being used quite often.  But what exactly is a LUT and how/why would you want to use it in your color grading projects?
LUT stands for "Look Up Table".  Simply put, it's a formula of numbers that can mathematically translate set values in your image into another set of values. A recent NoFilmSchool post defines it nicely:
LUTs are not used to creatively grade a final result, they're used to make up a difference between a source and a result. In practical application… the LUT will let you view your footage during editing more naturally than the flat, desaturated image originally recorded.
Some LUTs are used for on-set viewing, while others are designed for post production and color grading. Many video pros will use a LUT to determine how their video footage will look when printed to film, while it's still a digital file in their color grading app.
There's now a ton of third party LUTs you can purchase/download and apply to your projects and custom generators for creating your own LUTs (like this free generator from Arri).
The following video tutorial by Andrew McKee of PixelWizard Post (below) demonstrates how to use a LUT in DaVinci Resolve. The LUTs for this particular exercise are taken from Juan Melara, a successful colorist we've featured previously on the Premiumbeat blog. Download the free LUT files HERE and preview them in action:
Andrew's LUT tutorial is essential viewing for anyone using DaVinci Resolve or interested in high-end color grading. You'll walk away with a good understanding of "What is a LUT?" as well as how to successfully use them in DaVinci Resolve: