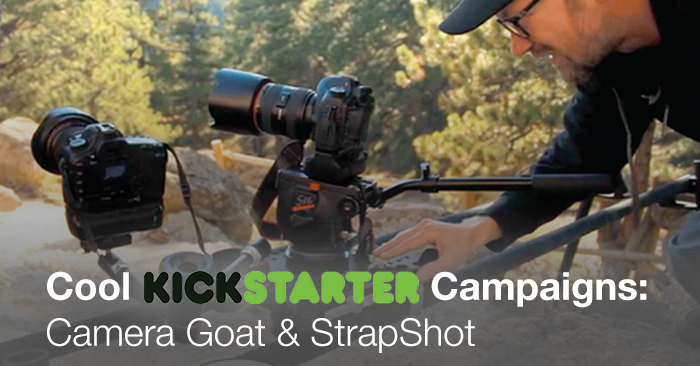 Cool Kickstarter Campaigns: Camera Goat & StrapShot
In our quest to identify the next great gear, we discovered the following photo/video campaigns currently raising dough on Kickstarter.
In a sea of IndieGoGo and Kickstarter campaigns it can be overwhelming to find projects worth your time and hard earned money. Here are two photo and video related projects that recently caught our eye!
Project Premise: An 'all-terrain' camera slider that is lightweight and can be leveled on any surface. Takes 10 minutes to setup, as opposed to the better part of an hour for more traditional dollies. Compatible with any camera size, from large footprint IMAX cams to the diminutive GoPro.
Seeking: $40,000 USD
Project Premise: A 'hands-free' camera strap for mirrorless, compact and DSLR cameras. Attaches to almost any camera bag or belt.  The beauty of this camera holder is that it is more comfortable than traditional camera straps, all while keeping your camera secure and accessible.
Seeking: $30,000 CAD
What do you think of these Kickstarter projects?
Want to recommend another photo or video crowd-funding campaign?
Got your own to share? Share in the comments below!