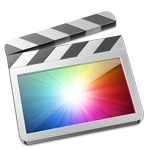 Crumplepop Releases SKIN TONE for FCPX
Skin Tone is a quick way to color correct flesh tones in your Final Cut Pro X projects!
Over the last few years Minneapolis based video editing pros Crumplepop, have come out with a slew of filters and effects for Final Cut Pro.  Their latest, Skin Tone, is a color grading utility tool for balancing the flesh tones in your video footage.
Shooting with an un-white balanced camera, or in a mix of light sources, can result in skin tone colors that look far from natural.  The Temperature and Tint adjustments in Skin Tone make it easy to restore natural looking tones back to your footage. This is far from a full featured color correction tool, but that isn't the point.  The simple controls are intended to make the process of balancing your shots easy and fast.
Check out Skin Tone in action below or visit Crumplepop to purchase ($75):

Skin Tone Demo for FCPX: