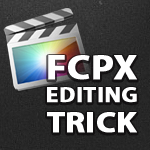 Editing With Custom Resolutions & Frame Rates in FCPX
Learn how to "trick" Final Cut Pro X into working with any resolution or frame rate.
One ongoing frustration for many Final Cut Pro X editors is the inability to work with custom resolutions and frame rates.  With FCPX, Apple attempted to simplify many things, one of which being the ability to dial in unique frame sizes and rates.  You're relegated to use the presets that come with Final Cut Pro X…or so it would seem.
Several video pros have devised their own solution for overcoming this Final Cut Pro X limitation by forcing FCPX to adapt to the properties of a particular clip.  The trick then to editing with custom resolutions and frames rates in Final Cut Pro X is to create a clip with the custom attributes you desire.  Each of the solutions below address similar ways to tackle this FCPX workaround.  Find out which one is right for you:
Editing plugin maker and post production guru Alex Gollner (we've posted about his great plug-ins previously) says the trick for getting custom frame rates and resolutions in FCX is to "create the timeline in a composite clip stored in an event."  To do this you'll need to have a clip with the desired settings.  He suggests you create it from a .JPG file in the free MPEG Streamclip video converting application.  More information on Alex's approach here.
Video editor T. Peyton posted a great video tutorial over at Creative Cow that showcases his approach to tackling this Final Cut Pro X issue.  He suggests that you can easily create a custom clip using Apple Motion, and then bring that clip into FCPX to create a timeline with custom resolution.  If you often work in unique resolutions and frame rates (say, vertical orientation video) then it's a good idea to save these clips in a Presets Templates folder in FCPX so they're easily accessible for future projects.  Get the rundown on how to modify the frame size and resolution in FCPX using Motion in this video tutorial (link to original Creative Cow post here):
The "godfather" of Final Cut Pro shares several tips for customizing your FCPX project resolution, including those mentioned above.  In addition, he personally contacted Apple to get their input on how to deal with this issue.  Apple suggests editing your projects using the presets in FCPX and then changing the frame rate and resolution in Compressor after export.  Modifying Compressor's "Geometry" tab allows you to dial in custom frame sizes.  Personally, this seems like a bit of a backwards approach (Larry agrees that "it would really be helpful if FCP X could create custom image sizes") but this workaround is worth sharing for anyone interested in tackling it this way.
Perhaps Apple will add this feature to future updates, but in the meantime these handy workarounds make it possible to work with custom frame sizes and resolution in Final Cut Pro X!