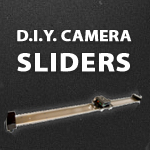 3 Inventive DIY Camera Sliders
Learn how you can create your own DIY camera slider in these informative how-to videos!
A professional camera slider will set you back a few hundred bucks – out of reach for some newbie shooters and hard to justify the cost if you won't be using it often. Get dramatic, moving shots by creating your own DIY camera slider!  Although there are quite a few DIY slider projects online, these 3 were featured because:
The steps to create your own are well laid out
The parts can be found at a local hardware store
They are all VERY inexpensive to build
If you're looking for a DIY slider option for your own shooting, see if one of these homemade projects fits the bill!
PVC Slider
Cost: $20  The guys from Backyard FX have put together this instructional (and funny!) how-to video for their wood and PVC camera slider.  This DIY slider balances on top of a tripod, so you can easily adjust the height.  Two PVC pipes are screwed down onto a 1X4 and used as rails for the sliding camera platform.
Steel DIY Slider
Cost: Under $50  This DIY camera slider utilizes steel rods and sheet metal for a strong sturdy design.  Using products found at his local hardware store, shooter Austin Wilson created this tripod mounted camera slider that looks and functions similar to many pro models.  Spray those rails down with WD40 and you've got really smooth slides!
Gutter Slider
Cost: $13  This may be the most low-tech camera slider of the three, but if you're in a pinch you can build it quickly and for VERY little cost.  Using rain gutter parts you can create this DIY slider that runs the length of the gutter.  Definitely not as stable as professional camera slider models, but major points for ingenuity!