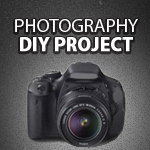 DIY Light Leak Effect for Photographers
Check out this tutorial for creating a cool light leak/haze effect for your still photography – super fast and ridiculously cheap!
We're fans of the crew over at DIYPhotography.net.  They're always posting great tips and tricks on photography techniques and DIY projects (see a few past DIYPhotography posts we've shared here and here).
They recently shared a Reddit post by professional photographer James David McGrady, that showcases a super easy way to give your still photographs a vintage light leak effect (a style that's totally en vogue right now).  Utilizing nothing more than a marker and plastic sandwich baggie, you can give your photos a unique haze look in-camera.
Of course, you can create similar photo light leak effects in post editing (through Photoshop or another photo editing application), but this cool DIY project creates a uniquley organic look that may be worth experimenting with!
Check out the full photo light leak project instructions at DIYPhotography.net or the original Reddit post.