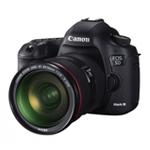 Premiumbeat's Ultimate DSLR Giveaway Winner Announced!
Premiumbeat would like to congratulate Peter Vandenbelt, the winner of the Canon 5D Mark III.
Our Canon 5D Mark III Camera Kit Giveaway has come to a close, with the announcement of the lucky random winner:
Peter Vandenbelt from Mercer Island, Washington
Peter is currently a third year student at the University of California Santa Barbara where he is studying environmental science and film.  The Canon 5D will be beneficial in his current job as a staff photographer for the UCSB Family Vacation Center.
Peter learned about the contest through our partnership wtih LearningDSLRVideo.com.  "I check out Dave Dugdale's blog nearly everyday and I'm ecstatic I was drawn" he said.  "I was planning on working this summer to buy a Canon 5D Mark III.  This is a dream come true!"
Big thanks to all who entered, and to our partners LearningDSLRVideo.com and B&H Photo Video Pro Audio.  Their partnership made this giveaway a great success.
Keep your eye on the Premiumbeat blog for future giveaways.  For more info on this giveaway see the original contest page.