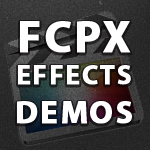 Video Examples of ALL FCPX Transitions, Filters & Generators
Looking for the perfect Final Cut Pro X transition, filter or generator?  Check out these videos that demonstrate every FCPX effect.
Apple has upped the ante on the number of effects they have included in Final Cut Pro X.  Although this is great for providing more options in your video editing, it can be daunting to go through and test out each of them, especially for a new FCPX editor.  Vimeo user Yordi Capó has taking the guesswork out of these effects by documenting each in action in the series of videos below.
This is a great review for anyone planning to do a significant amount of editing in FCPX.  It'll give you an idea of the effects you may want to use in your projects (some of the color effects are pretty handy) as well as those you'll likely want to avoid (some are just too specialized or just too cheesy, sorry Apple!)
Note: these are the effects included with FCPX, not 3rd party plugins.
**Thanks to the excellent Final Cut Pro X user site FCPX.co for tipping us off to these cool demo videos**
All Final Cut Pro X Transitions in under 8 minutes from Yordi Capó
All Final Cut Pro X Effects in under 9 minutes from Yordi Capó