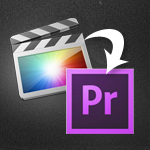 Final Cut Pro X to Adobe Premiere Pro
If you're looking for a solution to bring your Final Cut Pro X videos into Premiere Pro, this would be it!  In the following video, Dan Allen shows you how to convert your FCPX projects for Premiere Pro.
Ideally it's always a good idea to start your rough edits in the same application you'll be finish editing with (and maybe use some specialized applications along the way for graphics and color grading).  Whenever you bounce between editing apps some things will no doubt get 'lost in translation'.
That being said, there are instances when you may need to 'convert' your video editing projects from one app to another.  Maybe you've outgrown your more basic editing solution (in this case FCPX) and are in need of a more robust alternative (Premiere Pro).  Premiumbeat favorite Dan Allen, shares his workflow for getting Final Cut Pro X projects into Premiere Pro, as well as the pros and cons of this workflow.
FCPX projects will not automatically open up in Premiere.  So, to make the conversion you'll need a utility app called Xto7.  Intially it was designed to open up Final Cut Pro X projects in Final Cut Pro 7, but it also works with Premiere.  The app will set you back $50, but for the pro editor that's making a big switch from FCPX to Premiere it's a small price to pay.
You can download Xto7 over at the Mac Store.
Although the translation between apps is quick, it certainly isn't fool proof.  Titles created in FCPX will not open up in Premiere.  Mixed resolution projects will not auto scale to the frame size you have set in Premiere Pro.  Also, any 5.1 surround sound mixing you do in FCPX won't carry over (more on this robust audio tool here).
However, these are all pretty small setbacks when you take into account the time it would take to rebuild a FCPX project in Premiere.  Plus, you'll now have access to a nice post production workflow, using the tools in Audition and After Effects.
See the Final Cut Pro X to Premiere Pro workflow in action: