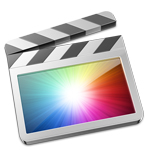 Final Cut Pro X Video Tutorial Series
Looking for quality and FREE Final Cut Pro X training?  This series of FCPX video tutorials looks like a great way to get started or improve your Final Cut Pro X video editing.
Video producer, director and editor Ben Consoli (of BC Media Productions) is a power Final Cut Pro X user.  He recently released the first two videos in what appears to be just the start of an ongoing video tutorial series on editing with Final Cut Pro X.
Ben's got a straightforward delivery and high production quality make these tutorials stand out in the sea of lackluster free FCPX video tutorials.  How many times have you clicked on a YouTube video tutorial only to have it hosted by an unknowledable teenager – these tutorials are not that!
The first two tutorials cover Creating Blu-Ray Discs in Final Cut Pro X and How to Use Final Cut Pro X for Talking Head Interviews (no doubt, something many FCPX video editors are cutting).
Marketing Tip: This is a great example of how sharing quality educational content can organically market your video production or photography business!
Thanks to Ben for sharing these tutorials.  We'll be on the lookout for more in the future!  Also, thanks to the great Final Cut Pro X blog FCP.co for the heads up on these quality FCPX video tutorials.