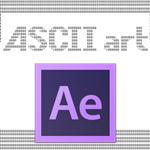 Free After Effects Script: Retro ASCII Style Text Generator
Add a old-school retro vibe to your video project with this free ASCII text script for After Effects!
You may remember ASCII art on the online bulletin board systems of the 1980's and early 90's. As ASCII has dwindled in popularity since then, the look is now a trademark of this early age of desktop computing:
With a free script from MotionBoutique you can now instantly convert text to ASCII art in your motion graphics and video editing projects inside of After Effects. This handy script is perfect for any project needing a unique retro look. After the script is loaded, it's easy to convert text to ASCII. Simply select the text layer, choose 1 of more than 200 ASCII presets and click "generate". Done!
Download the FREE ASCII art script over at MotionBoutique.
See the preset examples in this video or click on the image below to see an image of them all (a handy reference guide for anyone using this script).