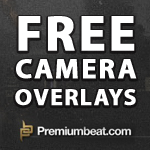 Free DSLR Camera Overlays for Video Projects
Give your video footage an in-camera perspective with these free DSLR simulation overlays!
Style your footage up with these cool DSLR camera overlays that can be used in any non-linear editing.  Although these packs were intended for video editing, they can also be applied in a image editing app (like Photoshop) for use with stills.
Planet 5D Camera Overlay
The first camera LCD overlay comes from Premiumbeat blog favorite, Planet5D.com.  This DSLR camera overlay pack includes .png image files with transparency that can be easily laid over video footage in your editing application.  These overlays include both DSLR still and video shooting modes, with focused/unfocused and on/off options.  Save a ton of time by not having to build these camera simulator overlays yourself!
More info & download the LCD display overlays for your video projects.
Crazy Delcy Video & DSLR Camera Overlays
Another great camera overlay pack for video editing.  Great for giving your footage the look of home-videos, surveillance cam or trendy fashion photography (photo above uses this overlay).  This simulator pack includes everything that you need to customize the look of the camera overlay, as each element of the display is broken out in Photoshop and Illustrator files, as well as the font file.  Use this camera overlay pack and then give your video footage a unique color treatment to really pull off the in-camera look.
More info and download the video & DSLR camera overlays.