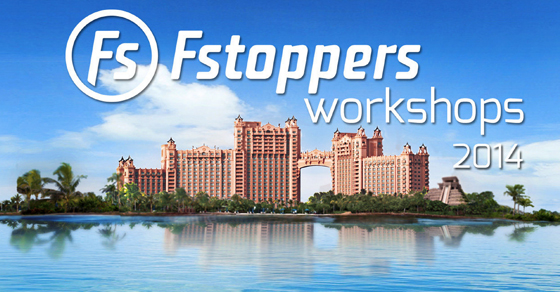 FStoppers Photo Workshop in the Bahamas + Free Trip
Our friends at Fstoppers are doing their first ever photo workshop this summer in the Bahamas. Learn about the event and how you can win an all-expenses paid trip.
Reading and watching tutorials online is a great way to build your photo skills but it's hard to beat the experience of learning one-on-one with professionals. That's the thought behind the upcoming Fstoppers photo workshop this summer.
The Fstoppers team has assembled a 10 member panel of the leading photographers in the industry for a series of classes (ranging from a few hours to 2 full days). The event will take place at the Atlantis Resort in Nassau, Bahamas May 28 through June 1, 2014. Not a bad place to be in the summer!
Check out this video of Lee and Patrick from Fstoppers giving a rundown of the event and presenters:
The event is limited to 200 people, to ensure that each attendee can get personal training from the presenters. The topics covered run the gamut of all types of professional photography including fashion, food, headshots, architecture, weddings, retouching, lighting and more.
They've set it up so you only pay for the workshops that you want to attend. More info on the Fstoppers Workshop site.
Win a Trip to the Fstoppers Workshop
Want to attend the workshop but short on cash? Fstoppers is actually giving away one all-expenses paid trip to the event. From now until the end of January you can enter to win a flight voucher, 5 night stay and free access to any of the workshops. There are five quick ways to enter.
Additionally, they're refunding the cost of the workshops to one person that enters early.
Winners for both giveaways will be picked on February 1st. Head over to Fstoppers to sign up and learn more.
This looks like a great event for both professional and aspiring photographers alike. Thanks for sharing it with us, Fstoppers!