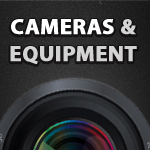 Photography & Video DIY: Gaffers Tape On-The-Go
All film and video makers should be familiar with the on-location 'do it all', gaffers tape.  Check out this cool tutorial showing you how to always keep a bit of gaff tape close at hand.
If you're not familiar with lighting blog The Strobist, you should be.  For the last few years David Hobby, the man behind the blog, has regularly shared his tips and tricks for getting the very most out of your off-camera flash when shooting photos.  The posts provide real-world examples of pro lighting setups and equipment reviews.  The techniques and tips are usually applicable to video pros as well, with this one being no exception…
In a recent article he demonstrates a way to create a homemade "Gaffers Tape Key Fob" so that you'll always have a bit of tape at hand.  This  is useful when you're out on a shoot and in a pinch.  As David notes, Gaffers tape can be used for a myriad of purposes including "fix a light mod, tack a piece of fabric to a wall for a headshot backdrop, hog-tie a captured smuggler or whatever."
All you need to create this handy key fob is a roll of gaffer tape (obviously), a pencil and paperclip.  For only a few minutes of time, you can create your own, possibly saving you when you're out in the field and in a bind.  Visit The Strobist to see the complete step-by-step instructions.
What's the Big Deal With Gaff Tape?
Are you a video or photo newbie and not sure what all the hoopla is about gaff tape?  This video by The Film Lab explains the differences between this media production staple and it's close relative, Duct Tape.   Discover why Gaff Tape is a necessary component in your photography or video production toolkit: