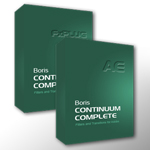 GIVEAWAY! Win a Copy of Boris Continuum Complete Visual Effects Toolkit
Boris Continuum Complete is a cutting edge effects and filter pack for video editors and motion designers. We've got 3 copies to giveaway!
If you're looking for a full featured visual effects tool kit, Boris Continuum Complete has you covered.   Now on it's 8th version, BCC packs in over 200 filters and effects to use in your video editing.
Boris has provided us with 3 copies of Continuum Complete to give away – EACH valued at $995!
UPDATE: THE CONTEST HAS NOW ENDED.
Thanks to all who entered.
Please follow us on Twitter and Facebook for info on future giveaways!
---
Highlights of BCC 8 include:
"3D Objects, image restoration tools, time-based effects such as Optical Stabilizer, distortion and perspective effects such as UpRez, generators such as Snow, Rain, and Fire, lights such as Glint, Glare, and Glitter, wipe transitions, keys and mattes including Motion Key for automated foreground object removal, colors and blurs, and film, glow, and cartoon effects."
Boris Continuum Complete gives you the option to choose from one of 1,000 presets or create your own (great for customizing your own looks to use in multiple projects).
Demo of Boris Continuum Complete 8 Effects:
At NAB 2013, Boris released Version 8.2 of Continuum Complete, an update that incorporates some new features for dramatically faster rendering.  This current version of BCC supports Apple Final Cut Pro and Motion (FXPlug), as well as Adobe After Effects and Premiere Pro.  An Avid and Sony Vegas release will be available sometime in the near future.
For more info and to purchase Continuum Complete visit Boris FX.
In the following videos you can see Continuum Complete in action:
Creating Film Looks with Continuum Complete 8
Streamline Your VFX Workflow in Premiere Pro CS6 with BCC
Animate Effects Across Multiple Clips with Beat Reactor